This is an archived article and the information in the article may be outdated. Please look at the time stamp on the story to see when it was last updated.
EVANS, Colo. – The Evans Police Department has reopened an investigation into the death of a 28-year-old woman after FOX31 Denver found evidence an Evans police detective misstated or omitted key evidence to disguise a murder as a suicide.
The detective, Michael Yates, was investigating the death of Ashley Fallis who died after a New Years' party in 2012 at her home in Weld County.
The Evans Police Department and the Colorado Bureau of Investigation ruled her death a suicide.
Slideshow: Photographs related to the investigation into Ashley Fallis' death
Her husband, Tom Fallis, was home when Ashley died and made the 911 call. He told police that Ashley shot herself and always maintained his innocence.
Tom Fallis now lives in Indiana with the couple's three children.
However, Ashley Fallis' relatives did not believe she committed suicide. They reached out to FOX31 Denver reporter Justin Joseph who discovered new clues in the case including statements from witnesses suggesting Ashley was murdered and that a police detective omitted and changed key witnesses statements, including one in which Tom Fallis allegedly confessed to the crime.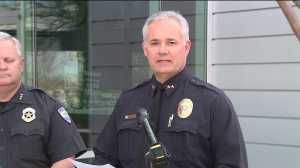 Friday, we presented the evidence to Evans Police Chief Rick Brandt, who Tuesday announced the case had been reopened.
"This new information includes alleged eye and ear witness accounts that we were previously unaware of and are of a serious enough nature to warrant further investigation in this case," Brandt said.
"I extend my sincere sympathy to the family of Ashely Fallis for their loss and the revisited grief that can accompany the reopening of a case such as this one," Brandt said.
Brandt said the Fort Collins Police Department will take the lead in reexamining Ashley Fallis' death.
"It is my desire that an unbiased, professional third-party review of this case be conducted," he said.
Additionally, the Loveland Police Department will examine accusations against detective Yates, who is accused of omitting material statements from witnesses and changing a statement from one witness to "support a conclusion of suicide," Brandt said.
Brandt said Yates was still on active duty.
"Right now all I've got is third-hand information from a reporter who says, 'I heard this from these people,'" Brandt said. "Till we get more information, I'm not going to make any change to the duty status.
Relatives suspected Ashley Fallis was murdered
Tom Fallis was the only person home when his wife died. He also made the 911 call for help.
The following morning, he was interviewed about the shooting repeatedly told investigators "I did not kill my wife."
We obtained a copy of the police interrogation, in which Tom Fallis gets visibly angry when asked if he had anything to do with his wife's death.
"That wound on the back of her head, isn't what she could do by herself Tom," interrogator Rita Wolfe told Tom Fallis.
"Bull sh**," Tom Fallis repeatedly yelled while slamming a water bottle on a table.
Relatives of Ashley Fallis said they saw similar anger the night of her death after Tom Fallis found out someone at the party had marijuana.
"He was irate and explosive," said Ashley's mother, Jenna Fox. "He was abusive with his words and he was telling us he hated us, and to 'F everybody' and then he went into the room and slammed the door."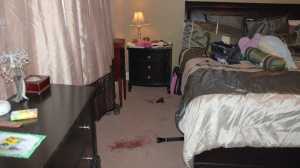 We reviewed photos of the crime scene showing a bedroom in disarray including photos knocked off the walls. Tom Fallis told investigators he and his wife never physically fought that night.  However, a witness in the home behind the Fallis' contradicted that statement.
One police report quotes a witness named Chelsea Arrigo, who said she heard Ashley Fallis scream, "Get off me. Get off me," before the gunshot.
Tom denied he had touched Ashley, but evidence photos taken during his interview showed Tom had scratch marks on his chest.
Witness claims to have heard confession
In our year-long investigation, we obtained all of the evidence in the case under an open records request. We interviewed key witnesses and found some troubling omissions in the evidence.
Nick Glover, who lived next to the Fallis', said that the night of the shooting he, his sister and a friend hid in his home.
"I heard Fallis saying 'What did I do?' 'What did I do?'" Glover said.
Glover also said he heard Tom Fallis saying, "I shot her."
Glover said he repeated this to Evans Police Detective Michael Yates.  Glover's mother said she was present during that admission.
However, Glover's statement never appeared in police reports.
Kathy Glover also told us that on the night of the shooting, a neighbor called her saying "call police you neighbor just shot his wife."
That statement contradicts the report prepared by Yates, which quoted Glover as saying  "call police, your neighbor just shot herself."
Both Nick and Kathy Glover prepared sworn affidavits describing their accounts of the night. The Glovers said they were shocked to learn of the omissions and misstatements in the reports prepared by Yates.
We asked Yates about the allegations. Yates did not deny the claims and referred us to his boss, Chief Brandt.
We also interviewed Tom Fallis.  He continues to maintain his innocence.
The last piece of evidence regards a statement made by one of the Fallis' children.
The six-year-old child told police she "saw daddy getting the gun ready" and said she "saw daddy shoot mommy."
Police discounted the testimony because the child said she witnessed three gunshots, but  Ashley Fallis was only shot once.
We hired nationally renowned forensic pathologist Cyril Wecht to review the evidence in the case.
Wecht said he believes the Evans Police Department botched the investigation, and that he does maintain there was sufficient evidence to charge Fallis for his wife's murder.
Ashley's family has set up a Facebook memorial page.