This is an archived article and the information in the article may be outdated. Please look at the time stamp on the story to see when it was last updated.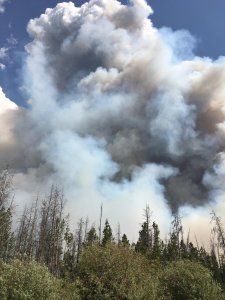 WALDEN, Colo. — Afternoon thunderstorms and erratic winds are challenges for the firefighters at the Beaver Creek wildfire in northern Colorado. Fire managers said they now have 359 firefighters on scene.
The fire didn't change in size by late Friday afternoon. It was just under 5,400 acres.
Officials called for mandatory evacuations Tuesday night at the Beaver Creek Fire , which is burning about 15 miles northwest of Walden and two to three miles south of the Wyoming border. It's in the Routt National Forest and the U.S. Forest Service said the fire was well established at the top of Independence Mountain.
Evacuation orders remained in place Friday.
The fire started Sunday and the cause was under investigation.
The evacuation order includes private and recreation residences as well as fire personnel in the fire area, according to the U.S. Forest Service. Jackson County Sheriff Gary Cure said everyone was successfully evacuated out of the Twisty Park and Pearl areas.
RELATED: Fire bans and fire danger in Colorado
The fire was burning in heavy timber and beetle kill in rugged terrain.
South Metro Fire Rescue deployed four firefighters on Brush Engine 39 to help with the fire. Lake Dillon Fire also sent a three-person crew and Denver Fire has sent one hand crew, one crew leader and an engine.
Rocky Mountain Incident Management Team Blue took over firefighting operations at 6 a.m. Thursday.
[protected-iframe id="192439655c6063fc83a341df0f134067-29290497-62452405″ info="https://www.google.com/maps/embed?pb=!1m18!1m12!1m3!1d546292.7067176865!2d-106.85321357508289!3d40.85279206326884!2m3!1f0!2f0!3f0!3m2!1i1024!2i768!4f13.1!3m3!1m2!1s0x0%3A0x0!2zNDDCsDU3JzEwLjgiTiAxMDbCsDM3JzMwLjAiVw!5e0!3m2!1sen!2sus!4v1466600196320″ width="100%" height="450″ frameborder="0″ style="border:0″ allowfullscreen=""]