This is an archived article and the information in the article may be outdated. Please look at the time stamp on the story to see when it was last updated.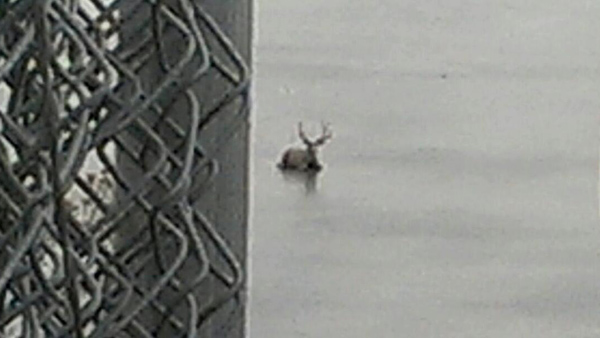 GOLDEN, Colo. — An mule deer that wandered out on the ice in Golden and became stuck was rescued with the help of some brave Park & Wildlife officials and volunteers from Coors Brewery on Thursday.
At approximately 8:40 a.m., Jefferson County police confirmed they had received several calls about a deer stuck on an iced-over body of water near 32nd and McIntyre, which is just east of the Coors Brewery.
Officials at Parks & Wildlife responded soon after 9 a.m. Shortly after that, they were warning onlookers hoping to help that this case is a difficult one, and that their department was not willing to put an officer's life at risk to save the animal.
"Unfortunately, this case will probably not have a good outcome," Parks & Wildlife spokesperson Jennifer Churchill said earlier in the day. "If this elk has been struggling for awhile, it may be near exhaustion."
Later in the day, just after noon, Park & Wildlife officials were able to coax the animal off the ice with the help of some volunteers.