This is an archived article and the information in the article may be outdated. Please look at the time stamp on the story to see when it was last updated.
EL PASO COUNTY, Colo. — The El Paso County Sheriff's Office has reached out to the public asking for help looking for a missing person on Friday.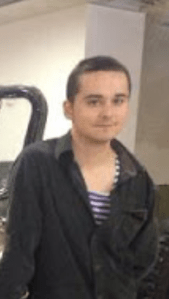 23-year-old Elijah Joe Sharp was reported missing, last seen by his parents around 9:30 p.m. Thursday after leaving the house following an argument.
His last possible known location was in Manitou Springs around the Barr Trail trailhead, but El Paso County Sheriff's Office doesn't know where he may have gone from there.
The Sheriff's Office said they are particularly concerned for his safety as they have located his vehicle and it appears he may have several firearms in his possession.
Elijah is 5-foot-11 and weighs approximately 150 pounds. He has brown hair and brown eyes.
If anyone has seen Elijah or has information as to his whereabouts, please contact Lieutenant Cheryl Peck of the El Paso County Sheriff's Office by calling the  Dispatch Center at 719-390-5555.