This is an archived article and the information in the article may be outdated. Please look at the time stamp on the story to see when it was last updated.
DENVER -- Building clouds are in the forecast for late Monday morning when a solar eclipse will cross Colorado, Wyoming and Nebraska.
Denver will have 92 percent totality when the moon passes in front of the sun starting at 10:24 a.m. The maximum totality happens at 11:47 a.m.
The forecast is still calling for high clouds on Monday morning that do not appear thick enough to block eclipse viewing, but could prevent a perfect view of the event.
Thicker clouds with a chance of storms are expected in the afternoon after the first solar eclipse that will cross the U.S. from coast to coast in 99 years passes.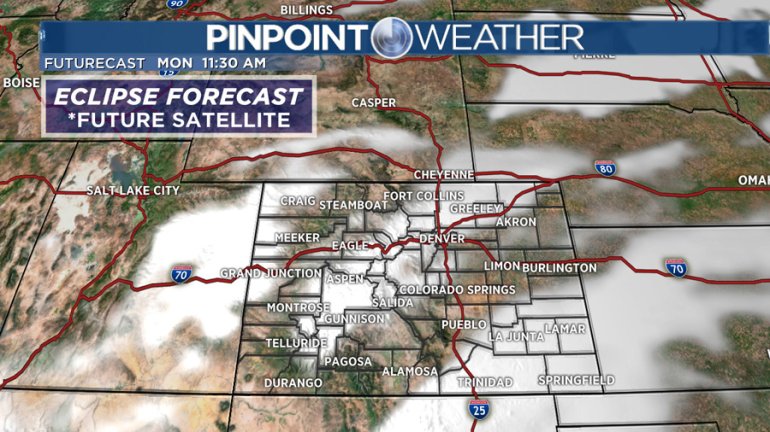 With four days until the eclipse, the area of Colorado that appears will be cloud-free is along the Interstate 76 corridor northeast of Denver to Julesburg.
The far northeast part of Colorado will get about 99 percent eclipse coverage and could be a great spot to catch the event.
In Wyoming and western Nebraska, which are in the path of totality and where up to 500,000 people are expected, high clouds are also in the forecast.
The cloud forecast could change, but no storms are predicted in Colorado, Wyoming and western Nebraska during the eclipse, and it's possible the high clouds will stay away.
RELATED: Map shows what solar eclipse will look like across the country
RELATED: Interactive map of how the eclipse will look
RELATED: Where to see the solar eclipse
RELATED: What the solar eclipse will look like by ZIP code
RELATED: CDOT warns of traffic nightmare for solar eclipse
RELATED: Tips for taking photos of solar eclipse
RELATED: Avoid buying bogus eclipse glasses