This is an archived article and the information in the article may be outdated. Please look at the time stamp on the story to see when it was last updated.
SILVERTHORNE, Colo. — Colorado wildlife officials are hoping people who like to fish will help eradicate illegally introduced predatory fish from Green Mountain Reservoir in Summit County.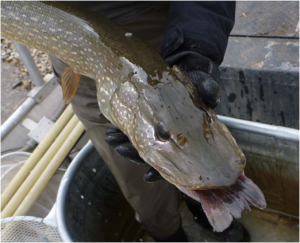 Colorado Parks and Wildlife and the Colorado Water Conservation Board are offering $20 for each northern pike caught on the reservoir starting Friday.
CPW biologists say predatory fish not only impact native fish in the reservoir, but they could escape and head downstream, affecting the trout population.
If the predatory fish reach critical habitat in the Colorado River, they would prey upon the state's endangered native fish — the Colorado pikeminnow, humpback chub, razorback sucker and bonytail.
Anglers are encouraged to catch and keep as many smallmouth bass and northern pike in the reservoir as they desire.
To participate, anglers must bring the northern pike to the Heeney Marina along with their driver's license and fishing license.
For more information, contact CPW's Hot Sulphur Springs office at 970-725-6200 or Heeney Marina at 970-724-9441.