This is an archived article and the information in the article may be outdated. Please look at the time stamp on the story to see when it was last updated.
DENVER — Law enforcement authorities in Denver and La Plata County denied erroneous reports by a Denver television station that Mark Redwine, the father of Dylan Redwine, who went missing in 2012, had been taken into custody early Saturday morning.
KUSA-TV reported on the air, online and on its mobile app Saturday that Mark Redwine was "taken into custody."
However, police denied these reports, correcting that Mark Redwine was hospitalized early Saturday morning after reportedly feeling he was being tracked by law enforcement and was seeking help.
The station also incorrectly reported in their 7 a.m. broadcast that Dylan had been murdered. In fact, his death has never been confirmed as a murder and the cause of death has never been determined.
A spokesperson for Denver Police confirmed that the agency responded to a 911 call from a friend of Mark Redwine's that came in at about 2:30 a.m. Saturday, stating that Mark Redwine believed police were following him in Denver.
When Denver Police officers responded, they discovered that Mark Redwine was disoriented.
Radio dispatch records indicate that Redwine may have been drinking and that he was armed at the time of the 911 call.
He was taken by ambulance to Denver Health for observation.
The La Plata County Sheriffs Office told FOX31 Denver early Saturday morning that their department had been unaware of Redwine's 911 call in Denver and that they were not involved in this latest incident.
KUSA-TV station reports denied by authorities
At no point was Mark Redwine arrested or taken into custody.
KUSA-TV reported that Mark Redwine was "taken into custody." Hours after the incident, the television station was still using the headline "taken into custody" on its website.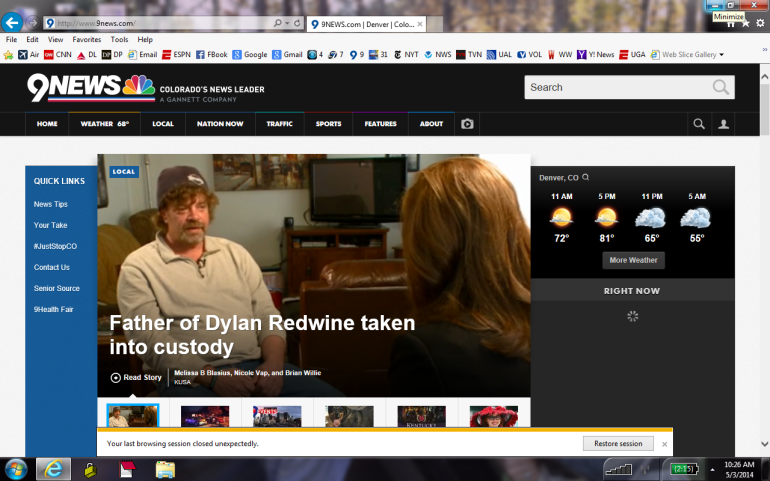 The television station later amended its headline to read, "Father of Dylan Redwine picked up by police." But KUSA never explained why they made the change.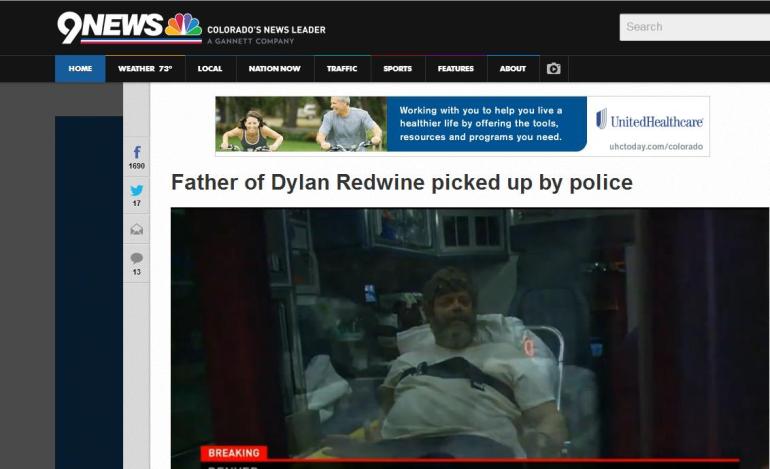 Disappearance of Dylan Redwine sparks public dispute between parents
Mark Redwine has been under tough scrutiny by both the public and police ever since his son, Dylan Redwine, vanished in 2012 while visiting his father in Southwest Colorado for Thanksgiving break.
In the weeks after the 10-year-old's disappearance, community members banded together to try and find him with volunteer search teams and even a $50,000 reward offer.
Police have said that both of Dylan's parents have been cooperative during the investigation, but added that the divorced couple also engaged in a very public blame game.
His parents appeared on the Dr. Phil Show in February and accused each other of complacency.
"I've had suspicions that Elaine could be involved in this," Mark Redwine said on the show, mentioning Dylan's mother. "I didn't lose Dylan."
"Then why is he gone?" Elaine Redwine boomed.
"That's a question we all have to ask," Mark said. "But…"
"No!" Elaine interjected. "You don't have to ask that question! You had him! Where is he?"
Investigators have never named Mark or Elaine as suspects in Dylan's disappearance. However, the TV appearance did reveal that Dylan likely led a turbulent home life before he went missing.
Mark Redwine has asserted that he believes Dylan was abducted when he was walking to a friend's house six miles away from his property near Vallecito Lake.
Mark Redwine had repeatedly denied involvement in his son's murder and was never arrested in connection with his son's disappearance in November 2012.