This is an archived article and the information in the article may be outdated. Please look at the time stamp on the story to see when it was last updated.
DURANGO, Colo. — Almost three years after 13-year-old Dylan Redwine disappeared, a person of interest has finally been identified. That person is Mark Redwine, Dylan's father.
The La Plata County Sheriff's Office made the announcement on Wednesday, along with the announcement that Redwine's cause of death had been changed from "unknown" to "homicide."
Redwine, then 13, disappeared from his father's home in the La Plata County town of Vallecito in November 2012. Some of his remains were discovered in the summer of 2013.
Investigators said they had zeroed in on a person of interest in the case on July 1 of this year, but they did not identify that person until Wednesday.
Mark Redwine told FOX31 Denver's Mark Meredith he "had no idea" before the announcement from the La Plata County Sheriff on Wednesday that he had been identified as that person of interest.
Just spoke by phone with #DylanRedwine dad. He tells me he had "no idea" about PD labeling him a person of interest.

— Mark Meredith (@markpmeredith) August 19, 2015
RELATED: Complete coverage of Dylan Redwine case
"That (person of interest) designation was based on evidence collected, inconsistent statements made by Mark Redwine, and his behavior throughout the investigation," the sheriff's office wrote in a press release.
The La Plata County Sheriff also indicated on Wednesday that Dylan's mother, Elaine Hall, her son Cory Redwine, and Elaine's husband, Mike Hall were cleared of any involvement in Dylan's disappearance and death.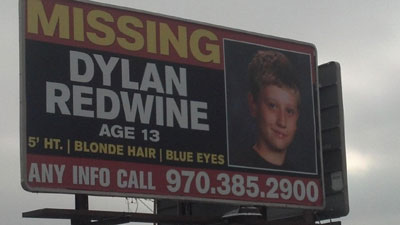 Hall told FOX31 Denver's Kevin Torres she was "pleased" with the announcement from the La Plata County Sheriff Wednesday, and that Mark Redwine had not been communicating with investigators for some time.
"I had no doubt who killed Dylan from the very beginning," Hall said. "I think naming a person of interest is a huge step in the right direction. It means they have evidence."
You'll hear exclusively from Elaine Redwine in her first TV interview today on #FOX31 News at 5pm. @KDVR

— Kevin Torres (@kevinltorres) August 19, 2015
In July, the La Plata County Sheriff's Office said the person of interest was identified after investigators went back and searched a remote area near where some of Dylan's remains were found. The sheriff's office said several "items of interest" were found and investigators have more searches to conduct.
Investigators also have enlisted the help of a former FBI profiler and it turns out Pete Klismet might have scored the biggest break yet.
"We've gone from really not knowing who might be a person of interest in the case to the point where we are saying yes, we feel very confident in having one," Klismet said.
Dylan disappeared around Thanksgiving 2012 while spending a court-ordered visit with his father. Dylan's mother Elaine Redwine has gone on national TV accusing Mark Redwine of being involved in her son's death.
Elaine Redwine filed a wrongful death lawsuit in the case against her husband in Durango. Mark Redwine has denied any involvement in Dylan's death.