This is an archived article and the information in the article may be outdated. Please look at the time stamp on the story to see when it was last updated.
DOUGLAS COUNTY, Colo. — A local school board is outraged after a troubling tweet from the account of a teachers' union.
The tweet from the Douglas County Federation of Teachers compares a Parkland Elementary School teacher to a penis. It also calls the teacher a derogatory word.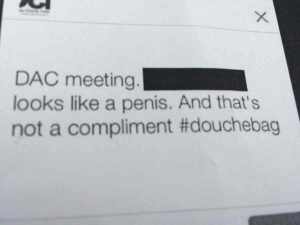 The tweet was sent on Jan. 12 during a board committee meeting. Douglas County School District Board of Educators President Meghann Silverthorn was in the board room when the tweet was sent. The teacher, whose name has been redacted to protect his privacy, was also in the room.
The Douglas County Federation of Teachers isn't denying the tweet came from its account. However, it claimed the account was hacked.
It sent a statement that reads: "DCF Twitter was hacked. We couldn't see the tweet that was sent because it was under media (not visible to us). As soon as the tweet was brought to our attention, we deactivated the account.
Silverthorn doesn't buy it.
"The text of the tweet was an account of what was happening at that meeting. If you're thinking about what hackers do, you had to be physically present in the room to know what was happening in that meeting," she said.
Silverthorn said subsequent tweets also referenced the same teacher and comments he was making in the meeting.
The school board wants the union to apologize to the teacher. It is also demanding all of the union's local representatives be removed.
It's a demand outlined in a letter sent Monday to the American Federation of Teachers in Washington.
Late Monday, the board received a response from AFT President Randi Weingarten.
It reads: "Of course I will review. But there are many acts of the Douglas County School Board that I have found hurt children, parents, educators, and the broader community."
Silverthorn acknowledges the board is often at odds with the union but says this has nothing to do with politics. Instead, it has everything to do with decency.