This is an archived article and the information in the article may be outdated. Please look at the time stamp on the story to see when it was last updated.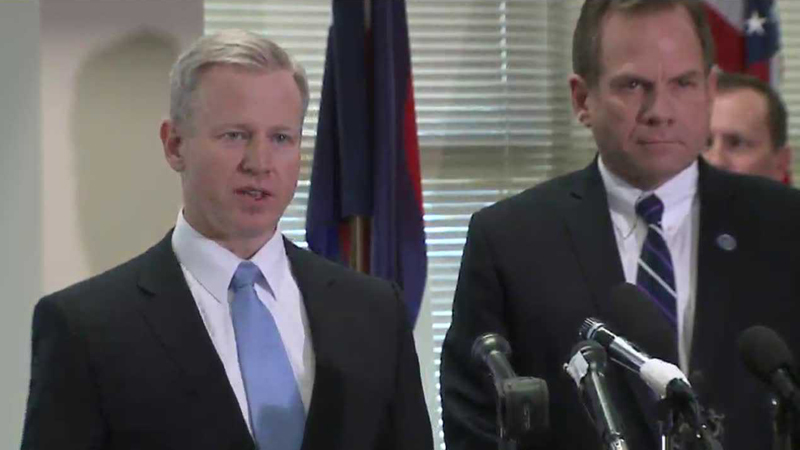 DOUGLAS COUNTY, Colo. -- The district attorneys for both Boulder and Douglas County took part in a joint press conference Thursday morning, explaining that Douglas County will take the lead in prosecuting Ryan Stone, the man accused of a kidnapping, multiple carjackings and leading police on a high-speed chase that spanned multiple counties.
Douglas County District Attorney George Brauchler spoke first at the press conference, saying the effort to prosecute Stone will be a "joint" one, but that his office will take the lead.
Though he didn't disclose any particulars, Boulder County District Attorney Stan Garrett said letting Brauchler's team take the lead was "in the best interest of the citizens of the state of Colorado."
Stone, who has a lengthy criminal record, will face multiple charges including first degree attempted murder, according to an affidavit released Thursday. He also stands accused of assault, kidnapping and aggravated theft of a motor vehicle.
Stone was being held on $3.5 million bond. He will make his first court appearance Friday.
Read the Ryan Stone arrest affidavit here
To say police had a busy morning Wednesday as they attempted to take Stone, 28, into custody might be an understatement.
RELATED: Longmont carjacking, chase suspect's girlfriend also arrested
The morning began with an Amber Alert being issued for missing Longmont 4-year-old Allen Chavarria-Rodriquez. Soon after that alert was issued SkyFOX found Longmont Police were involved in a high-speed chase with an SUV. Police said the SUV was stolen and that Chavarria-Rodriquez was inside.
The ensuing chase, which began in Longmont, included three stolen vehicles, spanned close to 100 miles and lasted almost two hours. It ended with Chavarria-Rodriquez being found safe and Stone being apprehended in Douglas County, near the intersection of Lincoln Avenue and Peoria Street.
RELATED: 4-year-old Longmont kidnapping victim reunited with his family
The only person injured during the lengthy chase was Colorado State Patrol trooper Bellamann Hee. At Thursday's press conference, State Patrol spokesperson Scott Hernandez said Hee was still dealing with serious injuries, but was in high spirits and expected to make a full -- if long -- recovery.
"We are upset about the injuries to Trooper Bellamann Hee," Hernandez said. "But we are pleased there are no more serious injuries.
The suspect "did not make any attempts to avoid Trooper Hee," according to the affidavit. The suspect vehicle was going about 100 mph at the time, police said.
RELATED: Victims of wild chase and carjackings tell scary stories
"I'm proud to wear a state patrol uniform today," Hernandez continued. "We faced a very dynamic situation yesterday, and I felt all the responding law enforcement agencies handled it well."
Police were involved in a high-speed chase with a suspect involved in a high speed chase in multiple vehicles on the morning of March 12, 2014. The suspect is associated with an Amber Alert.

Police were involved in a high-speed chase with a suspect involved in a high speed chase in multiple vehicles on the morning of March 12, 2014. The suspect is associated with an Amber Alert.

Police were involved in a high-speed chase with a suspect involved in a high speed chase in multiple vehicles on the morning of March 12, 2014. The suspect is associated with an Amber Alert.

Police were involved in a high-speed chase with a suspect involved in a high speed chase in multiple vehicles on the morning of March 12, 2014. The suspect is associated with an Amber Alert.

Police were involved in a high-speed chase with a suspect involved in a high speed chase in multiple vehicles on the morning of March 12, 2014. The suspect is associated with an Amber Alert.

Police were involved in a high-speed chase with a suspect involved in a high speed chase in multiple vehicles on the morning of March 12, 2014. The suspect is associated with an Amber Alert.

Police were involved in a high-speed chase with a suspect involved in a high speed chase in multiple vehicles on the morning of March 12, 2014. The suspect is associated with an Amber Alert.

Police were involved in a high-speed chase with a suspect involved in a high speed chase in multiple vehicles on the morning of March 12, 2014. The suspect is associated with an Amber Alert.

Police were involved in a high-speed chase with a suspect involved in a high speed chase in multiple vehicles on the morning of March 12, 2014. The suspect is associated with an Amber Alert.

Police were involved in a high-speed chase with a suspect involved in a high speed chase in multiple vehicles on the morning of March 12, 2014. The suspect is associated with an Amber Alert.

A suspect prepares to steal a vehicle during a wild police chase on the morning of March 12, 2014.

The suspect was seen stealing this mini van from a couple and continuing the high speed chase near Brighton.

Police were involved in a high-speed chase with a suspect involved in a high speed chase in multiple vehicles on the morning of March 12, 2014. The suspect is associated with an Amber Alert.

Police were involved in a high-speed chase with a suspect involved in a high speed chase in multiple vehicles on the morning of March 12, 2014. The suspect is associated with an Amber Alert.

Police were involved in a high-speed chase with a suspect involved in a high speed chase in multiple vehicles on the morning of March 12, 2014. The suspect is associated with an Amber Alert.

Police were involved in a high-speed chase with a suspect involved in a high speed chase in multiple vehicles on the morning of March 12, 2014. The suspect is associated with an Amber Alert.

The suspect initially crashed the van and attempted to steal another car before jumping back in the van in a chase on the morning of March 12, 2014.

The suspect initially crashed the van and attempted to steal another car before jumping back in the van in a chase on the morning of March 12, 2014.

A woman was thrown out of her car by the suspect during a wild police chase on the morning of March 12, 2013.

This crash finally ended the high-speed portion of the police pursuit of a suspect on the morning of March 12, 2014.

The suspect tried and failed to hop a fence on the morning of March 12, 2014, on foot, eventually surrendering to police in the area.

Police were involved in a high-speed chase with a suspect involved in a high speed chase in multiple vehicles on the morning of March 12, 2014. The suspect is associated with an Amber Alert.

Police have named this man a suspect in an Amber Alert issued for a missing Longmont boy on the morning of March, 12, 2014. (Credit: Longmont Police)

Police have named this man a suspect in an Amber Alert issued for a missing Longmont boy on the morning of March, 12, 2014. (Credit: Longmont Police)

Police identified Ryan Stone as the suspect in the kidnapping that ended in a high-speed chase on March 12, 2014. (Photo: Longmont Police Department)

This frame-by-frame image shows the Colorado State Patrol trooper who was injured attempting to lay a spike strip on C-470 near Chambers during a high-speed chase on the morning of March 12, 2014.

This map, submitted by KWGN viewer shows a rough outline of the route of the car chase on the morning of March 12, 2014. (Credit: John West)

Stacey Rader spoke live with our Chris Jose, after she fell victim to a carjacking during the chase. She was one of three carjacking victims, all of whom were unhurt. (Photo: Twitter / Joshua Hans)