This is an archived article and the information in the article may be outdated. Please look at the time stamp on the story to see when it was last updated.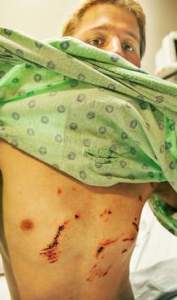 DURANGO, Colo. — Colorado Parks and Wildlife said DNA from a bear linked it to two attacks on campers near Durango last month.
Spokesman Joe Lewandowski told the Durango Herald that hair samples from the bear linked the animal to an attack on Joshua Barber on May 31 as well as an attack on two people illegally camping on May 23 near the Durango Tech Center.
The area was littered with trash and food, Lewandowski said.
"After the first incident, when our officers went up there to investigate, we were able to find hair from this bear. We were able to hold on to it. Then, after the second incident from last week, we sent the hair to a lab in Wyoming to do DNA testing. Results showed that the DNA from the first bear was the same bear that got those guys last weekend," he told the Herald.
He said, "from our standpoint, it does show that bears get habituated to food sources."
The bear was put down for safety reasons, following Colorado Parks and Wildlife policy.