This is an archived article and the information in the article may be outdated. Please look at the time stamp on the story to see when it was last updated.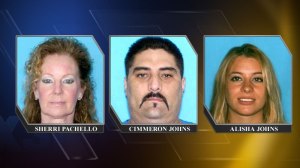 FREDERICK, Colo. — The Frederick home of Cimmeron and Alisha Johns remained dark and silent as news of their deaths continues to make its way through this community east of I-25.
Early Saturday morning, it was believed that the body of Cimmeron Johns was found in a Thornton apartment after a standoff with police.
According to authorities, both sides had exchanged gunfire.
Weld County Sheriff Deputies said Cimmeron Johns was responsible for kidnapping and killing his wife, Alisha Johns, and her mother Sherri Pachello.
Their bodies were found in separate fields south of Dacono on Friday.
Cimmeron Johns was tracked down at an apartment complex at 103rd Ave. in Thornton, where the overnight standoff began.
RELATED STORY: SWAT team finds man dead in Thornton apartment; Believed to be suspect in double kidnapping
Neighbors said the family has four children.
The children are now staying with extended family, said deputies.