This is an archived article and the information in the article may be outdated. Please look at the time stamp on the story to see when it was last updated.
DENVER -- Memorial Day weekend marks the unofficial start of summer. However construction season in downtown Denver is already in full bloom.
That means some road detours -- but also many sidewalks closures.
And it's the sidewalk closures that are causing the most frustration.
"I just want to make sure people can walk safely," John Hayden, Chair of the Mayor's Pedestrian Advisory Committee, said.
Hayden showed the construction at 17th and Curtis streets where a new office building is going up.
Hayden pointed to how many people ignore the "sidewalk closed" signs and instead walk into the middle of the street.
"They are ignoring the detours and they are doing something which is putting themselves in danger," Hayden said.
Hayden added "93 people were killed walking in Colorado last year."
Recently -- Hayden and his Pedestrian Committee -- sent a letter to the city asking for construction projects to be more pedestrian-friendly and it now appears their complaint is being listened to.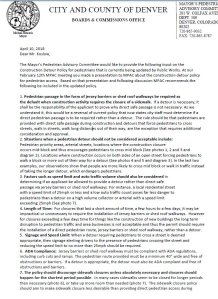 What Hayden wants is more pedestrian friendly options -- like covered sidewalks to keep paths open during construction or protected paths on the street if the entire sidewalk needs to be closed.
The Department of Public Works said it is are reviewing the request and plans on making changes.
"Our team at Denver Public Works (DPW) has reviewed the letter from the Mayor's Pedestrian Advisory Committee (MPAC) and is interested in incorporating many of the ideas presented to revise an existing DPW Rule and Regulation around the issuance of permits by the city traffic engineer (existing rule and reg is attached).

We were already working toward making improvements to our policy and the letter further indicates the community wants us to take additional steps.  We are in the beginning stages of exploring rule revisions that would require pedestrian and bike facilities to be better maintained/accessible during construction activities and are currently working with a consultant on a scope of work to help us develop a draft.

We mentioned to MPAC that the rule revision process could take several months. Revisions to DPW Rules and Regulations also come with a required public hearing. The goal will be to develop a policy we can successfully implement to improve mobility."