This is an archived article and the information in the article may be outdated. Please look at the time stamp on the story to see when it was last updated.
DENVER — Denver Mayor Michael Hancock announced Monday that Denver Sheriff Gary Wilson has stepped down and will be replaced. But the man replacing him temporarily, Division Chief Elias Diggins has an issue of his own.
According to a Colorado Bureau of Investigation report, Elias Diggins was arrested in 1996 in Arapahoe County for a felony of attempting to influence a public servant. The CBI report says he pleaded guilty to a lesser charge, a misdemeanor of false reporting.
Diggins, 41, told FOX31 Denver late Monday night he made a "mistake" when he was 23 years old. It was two years after he became a deputy. He says he did not try to bribe anyone, he just lied to a judge about having car insurance.
Diggins says he went to court after a car accident and told the judge he had car insurance when he did not have it. He says his sentence was community service and he had to pay for repairs to the other person's car.
He says he's worked to become a better person and that he hopes to make positive changes in the sheriff's office as interim sheriff.
Daelene Mix, a spokeswoman for the Manager of Safety says she doesn't know if Mayor Hancock was aware of the arrest record when he appointed Diggins earlier Monday.
At a news conference announcing Sheriff Wilson's departure earlier Monday, Hancock said the city will also conduct a "top-down" review of the department that has already been stained by accusations of abuse and misconduct.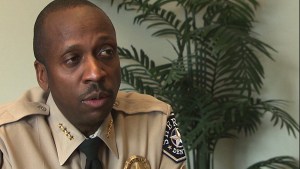 Hancock was joined by Department of Safety Executive Director Stephanie O'Malley, independent monitor Nick Mitchell, City Attorney Scott Martinez and Sheriff's Department officials at the City and County Building in making the announcement.
"The public's trust in its Sheriff Department has been shaken, and that is simply unacceptable," Mayor Hancock said. "The city is taking action to address several recent incidents and to rebuild confidence in the department by raising the bar of accountability among sheriff's deputies, supervisors and command staff. The people of Denver deserve nothing less than a department they can be proud of."
Diggins will assume the duties of Sheriff on an interim basis.  Hancock says a national search will be conducted for a permanent Sheriff. The Denver sheriff is appointed and not elected.
The move comes after two veterans of the sheriff's office were put on leave last week after an incident with a detainee.
Video showed deputy Thomas Ford slugging a man in the face and apparently kicking him as he was being booked into the downtown detention center.
Officer William Lewis was also put on investigative leave with pay for "writing an inaccurate reported related to the inappropriate force incident," a release from the city said.
"The incident occurred the evening of July 13, during the book-in process of a detainee," the news release read. "Sheriff Gary Wilson has requested an investigation of criminal charges against the officer, which will be decided by the Denver District Attorney's Office."
Hancock has been under pressure after a string of high-profile excessive force incidents within the department.
"I've instructed the department to expedite discipline at the jail for outstanding incidents," Hancock said.
Four task forces made up of internal and external stakeholders, including safety experts and members of the community, are currently examining training, discipline, staff well-being and policy and procedures within the Sheriff Department, Hancock said.
The Office of Human Resources is also completing an assessment of operations and organization at the Sheriff Department.
Finally, Hancock said he has ordered a review of the scope and capacity of the department's Internal Affairs Bureau to investigate complaints against deputies and other sworn personnel.
The Denver Sheriff's Department has about 890 employees. They operate the jails and a work-release facility and provide security for courts.