This is an archived article and the information in the article may be outdated. Please look at the time stamp on the story to see when it was last updated.
DENVER — The Denver Police Department hopes to equip 800 officers with body cameras by 2015, the department said Wednesday.
Speaking to reporters, police chief Robert White said the cameras would add a new layer of transparency to the department.
It will protect officers from illegitimate complaints and "clear up those moments of conflict," said White.
"From my perspective this is really a no brainer," he said. "I think citizens have the right to know what the officers are doing and why they are doing it."
The equipment will cost about $1.5 million, White said.  That will cover the cost of the cameras and storage of video.
DPD had been experimenting with cameras for about six months with officers in District 6.
White said the feedback he got from citizens and officers was "positive."
Officers will wear the cameras either attached to glasses or on their collar.
Each camera is attached to a box with a battery and up to 9 hours of record time. An officer can turn them on and off with a single large button.
After the shooting death of Michael Brown and the resulting unrest in Ferguson, Mo., groups such as the ACLU are prompting calls for more officers to wear body cameras, adding a new level of accountability to police work.
White's announcement came two days after a woman filed a lawsuit against Denver Police claiming an officer used excessive force against her.
Patricia Lucero's lawsuit claimed she was slammed into a wall and an elevator door and then arrested without cause on Dec. 28.
A subsequent internal affairs investigation revealed that the officer blamed Lucero for "stumbling into the wall and elevator door," even though the officer had Lucero's arm bound with the nunchuck at the time.
Police spokesman Sonny Jackson did not have any comment on the new lawsuit.
Last year, a Denver District Court ruled two Denver Police officers should be fired for lying about an excessive use of force instance at the Denver Diner.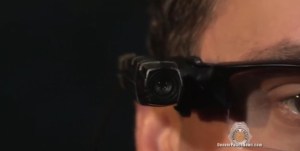 A turn toward body cameras
Officers in the United Kingdom were the first to experiment with body cameras, said David Harris, a law professor at the University of Pittsburgh who has studied the use of cameras in policing. They found that the cameras did more than simply record an encounter; they also had an interesting effect on people who were confronted by police.
"Some people who weren't behaving suddenly started behaving knowing that what they were doing was being filmed," said Harris.
Used with apps and other technology, the devices also allowed officers to record and maintain records in real time, which led to faster resolutions of cases.
But sticky questions have been raised.
There are concerns about privacy. Police are called after terrible things happen to people. Could recording expose victims? When do officers begin recording? Only during certain situations or in every situation? Could footage, depending on when the record button is pressed, present a false or misleading account of an encounter?
When does an officer announce that he is recording? Laws governing when and where people can be recorded vary from state to state. Would a person who knows they are being recorded by a police officer be less likely to tell an officer much needed information?