This is an archived article and the information in the article may be outdated. Please look at the time stamp on the story to see when it was last updated.
DENVER — A Denver Health Medical Center paramedic who rushed to help two assault victims ended up fighting a murder suspect after the man attacked and disarmed a police officer.
Paramedic Lt. Otis McKay Jr.  and officer Jonathan Davis were among the first to respond to reports of an assault at 24th and Curtis streets on June 16.
When they arrived, they found two teen victims with severe facial injuries.
Then they learned there was a third victim who was severely injured and lying in the middle of the street about a block away.
They rushed to help the victim and found a man standing over a motionless body.
"Lt. McKay and officer Davis quickly recognized that the situation may possibly be a homicide in progress," officials said.
Davis drew his weapon and ordered the suspect to the ground, but the man ran at Davis, tackled him and knocked his firearm to the ground.
McKay immediately ran to help and tried to stop the man attacking Davis.
McKay and Davis fought with the suspect for three minutes, 30 seconds before other officers arrived and were able to subdue him, officials said.
Davis and McKay were injured in the struggle, but police officials say the paramedic might have saved the officer's life.
"Officer Davis and others in the Denver community could have suffered severe injury or death had it not been for Lt. McKay's recognition of the severity of this situation and willingness to courageously assist officer Davis," officials stated.
McKay was presented with the Bill Daniels Neighborhood Hero Award, which was established to recognize community members who make heroic efforts to help others.
"Lt. Otis McKay demonstrated tremendous courage and suffered injuries while helping police officers detain a dangerous suspect," said Linda Childears, president and CEO of the Daniels Fund.
"We applaud Lt. McKay and all first responders who place themselves in harm's way to keep our city safe."
The Daniels Fund also donated $1,000 to the Denver Health Foundation, to be used for paramedic scholarships, in McKay's honor.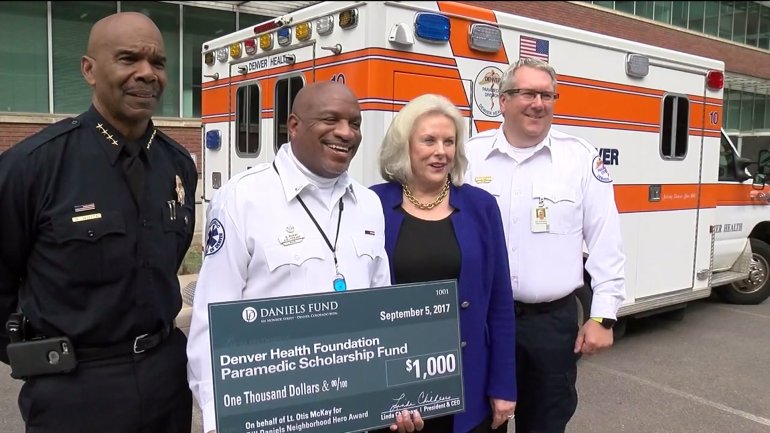 "I was fortunate enough to be there for this one incident, but I believe with my heart that each and every one of our paramedics would've done the same thing on any given day. And the Denver Police Department does it 10 times a day," McKay said.
The Denver Police Department also plans to recognize McKay's actions with an official commendation at a future awards ceremony.
The man who was found lying in the street later died from his injuries.
He was identified as 62-year-old James Farmer Jr., a good Samaritan who had tried to intervene in the attack on the two teens.
Farmer's family said he was a veteran and had come to Denver looking for work to support his family in Seattle.
The suspect in the deadly attack, 28-year-old Dejuan Stamps, has been charged with one count of first-degree murder, one count of first-degree assault, two counts of second-degree assault and one count of third-degree assault.