This is an archived article and the information in the article may be outdated. Please look at the time stamp on the story to see when it was last updated.
DENVER- After a brutal assault and robbery along the 16th Street Mall, Denver's mayor is urging patience to allow investigators time to piece together what happened.
Initial reports indicate a couple was attacked by several teenagers after a verbal altercation near the intersection of 16th and Curtis streets. The couple told FOX31 Denver over the weekend they noticed teenagers littering and decided to speak up, which eventually led to an all-out brawl.
"I got dog piled and kicked in the head, punched repeatedly," said Mitch, the 50-year-old victim.
An unidentified bystander noticed the attack and tried to intervene but instead was injured with a box cutter.
"We're taking a serious look at the incident itself, were taking a serious look into police response times," Mayor Michael Hancock said Tuesday.
Hancock added he was in contact with Denver Police Chief Robert White over the incident but was still gathering information.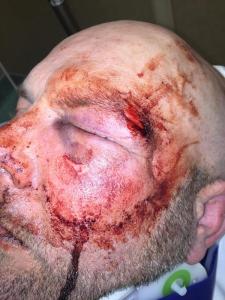 "It's also important we not overreact with these sort of incidents, that we follow our typical protocol to investigate and to hold those responsible once we understand the facts of the incident." Hancock said.
FOX31 Denver requested copies of the 911 tape involved to better understand the exact chain of events that led to officers taking 14 minutes to respond to the attack. The request was denied, citing an ongoing investigation.
This week, investigators are expected to review HALO surveillance video around the 16th Street Mall to piece together an exact chain of events. Since the initial reporting of the attack on Thursday night, several viewers have reached out to FOX31 to express concern about the safety of visitors on the mall.
On Tuesday, FOX31 Denver requested an on-camera interview with White, but the department declined the request, deferring to Hancock's comments regarding the matter.