This is an archived article and the information in the article may be outdated. Please look at the time stamp on the story to see when it was last updated.
DENVER — A Denver Sheriff's Deputy is suspended from the force for 40 days without pay for punching an inmate.
According to disciplinary documents, Sgt. Randolph Romero "Shall not wear the Department uniform" or gain access to Denver buildings during the disciplinary suspension. "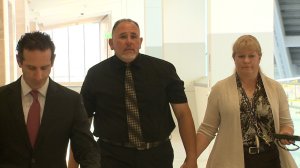 The suspension stems from an incident at the jail involving inmate Stephen Hamper.
On March 31, Hamper had covered his jail cell lights which is a safety violation.
On April 1, Hamper uncovered his lights because he wanted to leave his cell and use the phone.
A deputy told Hamper he was on lockdown for covering the lights and could not leave his cell.
Once Hamper knew he was on lockdown he started covering up the lights again.
Romero told internal affairs investigators that he went to Hamper's cell to speak with him "man to man" about the lights being covered in his cell.
Four deputies were standing outside the cell when Romero entered. The inmate removed his socks and shoes and in jail cell video appears to encourage Sgt. Romero to fight him.
Video of the incident shows the pair argued for four minutes before the incident escalated.
Instead of retreating from the cell, documents say Sgt. Romero "rushed towards (the) inmate and led with a left punch."
A scuffle ensued with Romero and Hamper exchanging punches.
Deputies wrestled Hamper to the floor as Romero continued punching, according to the report.
Hamper was treated for superficial wounds and abrasions.  Two deputies were also injured in the melee.
Denver Deputy suspended for 40-days after he's caught on cam ear charging inmate. #kdvr investigates at 5:30 pic.twitter.com/vOfnTSJWUQ

— Rob Low (@RobLowTV) November 10, 2017
After the altercation, Hamper told investigators that he wanted to make Romero mad.
Hamper's mother Shona Biby said, "My son came away from that situation with a front lobe injury and by the end of that situation my son was unconscious."
According to the disciplinary notification, "Sergeant Romero had several opportunities and ample time to remove himself from the situation and potentially avoid a use of force incident. There is a preponderance of evidence that Sergeant Romero used inappropriate force."
During an October discipline hearing, Chief Paul Oliva asked Romero: "Why didn't you step out and secure the door? Romero told his boss, "It never crossed my mind."
"I know it's somewhere between three and four minutes before it escalates to a physical altercation…that is ample time for somebody who has composure to walk away," Biby said.
The report says "This  risk that Sergeant Romero took was unnecessary" and "It is appropriate for the department to have higher expectations for supervisors."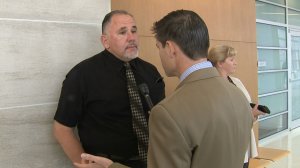 The current suspension runs through January 4, 2018.
In August the district attorney's office charged Romero as a suspect in a March assault at the jail.
Romero, a 29 year veteran of the sheriff's office, was suspended for three days in 2003 for sexual harassment.
In 2005, he received a verbal reprimand for an "erroneous release."