This is an archived article and the information in the article may be outdated. Please look at the time stamp on the story to see when it was last updated.
DENVER -- A failed system for sterilizing surgical equipment at Centura Health-Porter Adventist Hospital in Denver wasn't discovered by the hospital itself.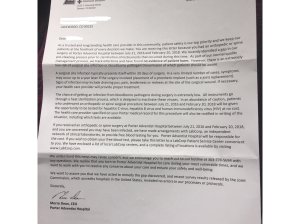 The FOX31 Problem Solvers have learned inspectors from the Joint Commission's Office of Quality and Patient Safety (OQPS) visited Porter six weeks ago and issued "a Preliminary Denial of Accreditation decision."
The Joint Commission is the most important hospital accreditation and rating agency in the country.
In a statement to FOX31, the Commission stated:
"We conducted an on-site survey on February 20, 2018 that resulted in a Preliminary Denial of Accreditation decision. This decision was due to existence at the time of survey of a condition, which in The Joint Commission's view, poses a threat to patients or other individuals served. The hospital most recently underwent an on-site survey on March 14, 2018."
In Friday's mail, spine and orthopedic patients who underwent surgery from July 21, 2016 to February 20, 2018, started receiving warning letters from Centura.
The letter asks patients, possibly affected by the sterilization issue, to get tested for HIV, and Hepatitis B and C.