This is an archived article and the information in the article may be outdated. Please look at the time stamp on the story to see when it was last updated.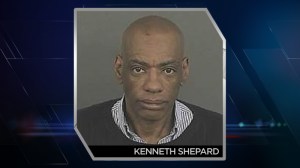 DENVER — An arrest has been made in a fire at an apartment building, that forced several people to jump from the second and third floors, the Denver Fire Department said Wednesday.
Kenneth Shepard was arrested by Denver Fire arson investigators in connection to the fire that broke out on Easter night. Shepard was identified through surveillance video that showed him going into the building that caught fire, dressed in what looked like a bathrobe and a sheet on his head, say Denver police.  After the fire was started, the same person in the video -later identified as Shepard, according to police – was seen taking off the robe and sheet while going into the parking garage.
The fire broke out about 9 p.m. Sunday at the Federal View Apartments at 2625 Federal Blvd. Crews immediately set up ladders and rescued residents.
Denver Fire said the fire was on the third floor and might have started as the result of a domestic incident, but the official cause has not been determined. Some people jumped to escape the flames and others were carried out by firefighters.
Eleven people, including infants and children, were taken to Denver Health Medical Center. Three people are in serious condition, two are in critical condition.
As many as 20 families living on the third floor have been displaced.
[protected-iframe id="f31f4db94bd6a2f4b6c363ecdecce54b-29290497-62452405″ info="https://www.google.com/maps/embed?pb=!1m18!1m12!1m3!1d20633.259557888417!2d-105.03301640899734!3d39.75868691593407!2m3!1f0!2f0!3f0!3m2!1i1024!2i768!4f13.1!3m3!1m2!1s0x876c7898d9f5a6d1%3A0xd29b12797c049441!2s2625+Federal+Blvd%2C+Denver%2C+CO+80211!5e0!3m2!1sen!2sus!4v1459163042725″ width="100%" height="450″ frameborder="0″ style="border:0″ allowfullscreen=""]