This is an archived article and the information in the article may be outdated. Please look at the time stamp on the story to see when it was last updated.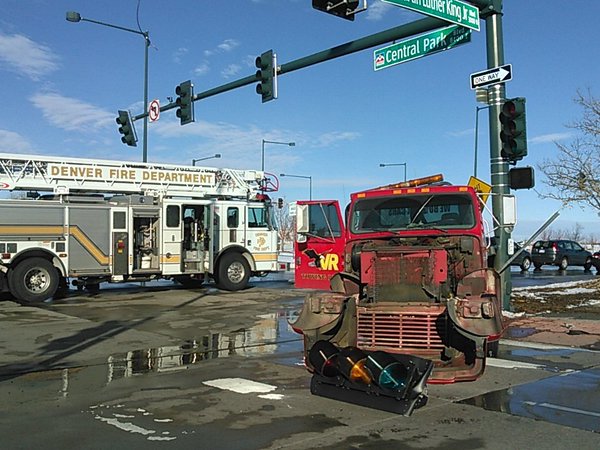 DENVER — A fire truck and a tow truck collided in a Denver intersection on Tuesday afternoon, the Denver Police Department said.
The incident happened before 2 p.m. at Martin Luther King Jr. Boulevard and Central Park Boulevard.
The tow truck was going southbound on Central Park Boulevard and ran a red light, police said. The truck hit the fire truck that was on an emergency run while traveling eastbound on MLK.
One of two occupants in the tow truck was treated for minor injuries. No firefighters were injured.
A Denver Fire spokesman said the truck had its lights and sirens on when it went though the intersection.
The identities of the drivers have not been released.
[protected-iframe id="77c625b6a799444aad5106d58453529a-29290497-62452405″ info="https://www.google.com/maps/embed?pb=!1m18!1m12!1m3!1d5158.3138595796445!2d-104.8950130629575!3d39.75870066618262!2m3!1f0!2f0!3f0!3m2!1i1024!2i768!4f13.1!3m3!1m2!1s0x0%3A0x0!2zMznCsDQ1JzM1LjUiTiAxMDTCsDUzJzI2LjkiVw!5e0!3m2!1sen!2sus!4v1447858625122″ width="100%" height="450″ frameborder="0″ style="border:0″ allowfullscreen=""]