This is an archived article and the information in the article may be outdated. Please look at the time stamp on the story to see when it was last updated.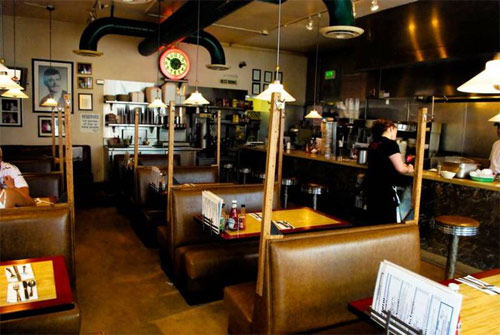 DENVER — Opened for business in 1942, Pete's Kitchen on East Colfax Avenue has seen 17 presidential elections come and go. And no, Mr. Dewey did not win in 1944. Mr. Roosevelt stayed in office for a third term.
Last night, Pete's Kitchen was witness to yet another presidential election. And if you were looking for an opinion, you found a place to share it at Pete's, where opinions flow like the piping hot coffee.
And regardless of political affiliation, all opinions found a place where they were indeed valued and welcomed on Election Day 2012.
One young woman told all who she pulled the lever for: "Obama. I'm proud to say that. I really support his policies on education."
Another woman dining on an over-sized smothered breakfast burrito said, "You look at the signs on the streets. There's Romney folks out everywhere and there's not a lot of enthusiasm for Obama like there was four years ago."
One registered voter was decidedly undecided.
"I did vote for Obama in '08 and I don't regret it," he said. "You know, I don't think he did a horrible job, but again I wasn't educated then. I just voted because it was such a huge thing. But this year I think I'm just going to stay out of it."
Not all eyes were on the Presidential pursuit. Some folks were interested in more pressing issues.
"They need to pass that marijuana law," Sharon from Arvada, in her sixties, said. "That would be nice." 
She got her wish late last night when Amendment 64 passed. When asked if she had the munchies, she said no. Then giggled.