This is an archived article and the information in the article may be outdated. Please look at the time stamp on the story to see when it was last updated.
AURORA, Colo. — One of the nation's most-anticipated movie premieres ever quickly turned into one of the most gruesome nights in the state of Colorado's history when a heavily-armed gunman dressed for war opened fire in a crowded movie theater.
At first, movie-goers like Jennifer Seger, who turned out to watch one of four midnight showings of "The Dark Knight Rises," thought the smoke that began to fill movie theater No. 9 at the Century 16 cinemas in the Aurora Mall was part of the act — the man cloaked in black a tribute to Batman, the superhero they showed up to see.
When it was apparent the dark figure had just released tear gas into the theater, was wearing protective riot gear and spraying bullets from three weapons into the audience without a trace of emotion, movie-goers ran for their lives.
71 were shot, many of them children no older than 10. There were 12 killed. Hundreds of others fled and managed to escape with their lives.
"(The shooter) was methodical, but there was pandemonium around him," said Seger, who stared down the barrel of a gun before diving for cover in the aisle. "It was chaos."
Police arrested a suspect who they believed acted alone about an hour after the attack began and minutes after a 911 call was received. James Holmes, a 24-year-old North Aurora resident who moved to Colorado from San Diego to pursue a PhD in neuroscience, surrendered without incident.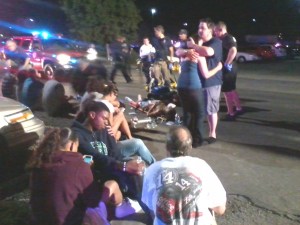 Holmes reportedly colored his hair red and told federal authorities he was the famed Batman villain "the Joker." He was carrying an AR-15 assault rifle, a Remington 870 12-gauge shotgun and a 40-caliber Glock handgun when Aurora police arrested him near his parked car in the back of the movie theater. Another 40-caliber handgun was found in the vehicle.
Authorities believe Holmes bought a ticket to the movie, entered the theater early, propped open the emergency exit door he would re-enter through, crept quietly out of the theater and then prepared for a one-man firefight.
Even after Holmes' attack ended, his plan continued to unveil itself.
Donning a ballistic helmet, a gas mask, a throat protector, a tactical ballistic vest, a groin protector and ballistic leggins, Holmes told police he had booby-trapped his Aurora apartment at 1690 Paris Street with trip wire and devices of an incendiary and chemical nature.
"We found an active and difficult scene," Aurora Police Chief Dan Oates said at a Friday morning press briefing. "It may be resolved in hours. It may be days."
As of 8 p.m. Friday, none of the booby-traps at Holmes' apartment had been deactivated.
While local and federal authorities evacuated five buildings near the apartment — an area they dubbed a potential "blast zone" — victims of what many are now dubbing the Batman Massacre were rushed to six different hospitals.
Surgeon James Denton said the Aurora Medical Center received 15 patients within 20 minutes at one of the shooting's designated trauma centers. Denton compared the flow of patients to April 20, 1999, when hospitals around the Denver Metro area were flooded with victims of the Columbine High School massacre.
Except this day — July 20, 2012 — was worse.
"We received more patients in a shorter period of time," Denton said. "Thankfully, this time we were better prepared for it."
Unfortunately for 10 of the 12 who lost their lives early Friday morning, they never made it to a hospital. After the attack was over, Oates said many of the 10 bodies remained entombed inside the theater. Many families were left in the dark.
One of the first reported deaths was that of an unnamed 6-year-old. Her father, who asked to remain nameless, as well, was informed his child was missing Friday morning by relatives in New York.
The man became so enraged when trying to visit his wife, who had been shot in the chest, that he was detained by security guards and forcibly removed from the Aurora Medical Center. When he was told the gunman was still alive, the man said "hopefully not for long."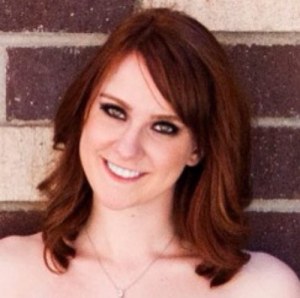 Among the other confirmed deaths were former FOX31 intern Jessica Redfield, an unidentified 7-year-old and an unidentified service member from Buckley Air Force Base who was responding to the shooting.
The image that will stick with many who tuned in from around the country is the one of Jame Rohrs' 3-month-old daughter, who was released from University Hospital Friday afternoon after being grazed by a bullet.
The experience that witness Ben Fernandez will struggle to wipe from his brain is the one of a child who he said "couldn't have been older than 12 or 13." Fernandez saw her lying on the ground screaming and clutching at two gunshot wounds to her leg.
"She was just a kid," Fernandez said, rubbing both arms nervously. "There was so much blood."
The scar that will stick with Colorado State football recruit Zack Golditch is the one on his neck, where a bullet entered beneath his left ear and exited out the other side. Golditch was in theater No. 8 at the complex when a bullet passed through the walls of theater No. 9 and struck him.
Golditch walked away from the scene and was with his family Friday night. Though he's expected to make a full recovery, his father, Stewart Golditch, was left wondering about his son's state of mind.
"He's doing okay," Stewart said. "But I don't know how he's doing emotionally. I think he's blocking it out."
All of the victims, the state of Colorado, much of the nation and even the world were left wondering about the mental state of the suspected shooter.
Neighbors who knew Holmes as a high schooler in San Diego called him a mysterious "loner." When asked if he believed Holmes showed any signs of a man who could be days away from going on a shooting spree, Jackie Mitchell, who shared a beer with the suspected gunman at Aurora's Zephyr Lounger on Tuesday, said, "no, not at all."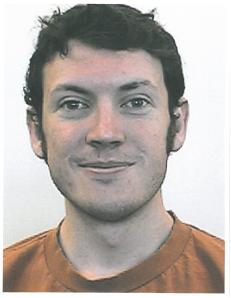 "He seemed like a well-educated, book-smart type of person," Mitchell said. "The picture they showed on the news, that's the picture you see when you're talking to him. He had a little smirk like he's intelligent."
"Intelligent" was a word many used to describe Holmes Friday. University of California-Riverside Chancellor Timothy White said Holmes was a merit scholarship-winner and an honor student when he attended the southern California university.
Holmes was also a neuroscience graduate student at the same University of Colorado-Denver campus that was partially evacuated due to his booby-trapped apartment. He dropped out of that graduate program in June.
Though he did not possesses a permit to carry concealed firearms, all the weapons Holmes used in Friday's shooting were obtained legally.
Carefully planned and well-executed preparations aside, the actions of a man who could sit peacefully amongst the same people he was prepared to slaughter were described the same by all authorities who spoke publicly.
Speaking from a suspended campaign stop over 1,500 miles away in Fort Meyers, Fla., the nation's highest-ranking official addressed the nation Friday.
"Such violence, such evil is senseless," President Obama said. "We're going to stand by our neighbors in Colorado during this extraordinarily difficult time."