This is an archived article and the information in the article may be outdated. Please look at the time stamp on the story to see when it was last updated.
AURORA, Colo. — Prosecutors said Wednesday that a 19-year-old girl was speeding to get home so that she could get away from a boy she knew, who pulled the emergency brake causing a crash that seriously injured both.
Sarah MacDole was driving her SUV down S. Buckley Road near S. Nucla Way with William McKnight, 19.
Aurora Police said McKnight and MacDole were arguing when McKnight suddenly pulled the emergency brake, causing the car to skid out of control and flip after striking the median.
Neither person was wearing a seat belt and MacDole was ejected from the vehicle, the Aurora Fire Department said. She is in critical condition but is expected to survive, Aurora Police said.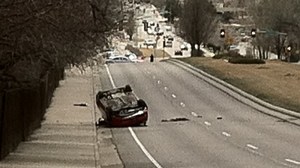 Wednesday prosecutor Megan Ratner said MacDole was speeding because she wanted to get home and get McKnight out of the car.
McKnight was arrested on suspicion of first-degree assault, violation of a protection order and reckless endangerment, and was booked into the Arapahoe County Detention Center.
His bond has been set at $200,000 and he must wear a GPS monitor.
Details about the relationship between the two are not fully clear, but we've learned there was a protective order that should have kept them separate.
Formal charges against McKnight will be filled Friday.