This is an archived article and the information in the article may be outdated. Please look at the time stamp on the story to see when it was last updated.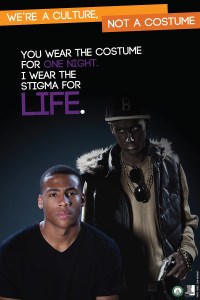 BOULDER, Colo. — A new campaign at the University of Colorado is discouraging students from choosing racially insensitive Halloween costumes this year.
The poster campaign "We're a culture, not a costume," originated at Ohio University, and shows students of various ethnicities holding up photographs of themselves or standing next people in offensive costumes, the Daily Camera reported.
"It's really a campaign to raise awareness and to create a better sense of community for all of our students and how to have a respectful and inclusive community for all students here at CU," Center for Multicultural Affairs director Randy McCrillis told the paper.
One poster shows an Asian student holding a photograph of a woman wearing a geisha costume. Another shows a Hispanic student holding a photograph of a man wearing a sombrero and riding a donkey.
Student Kevin Patterson told the Camera there's a need for this type of campaign at CU.
"I've seen blackface on the Hill," Patterson said. "I've seen a lot of this manifest."
This year, minority enrollment among CU's freshman class increased by 12 percent and among all CU students by 7 percent.
Read the story at the Daily Camera