This is an archived article and the information in the article may be outdated. Please look at the time stamp on the story to see when it was last updated.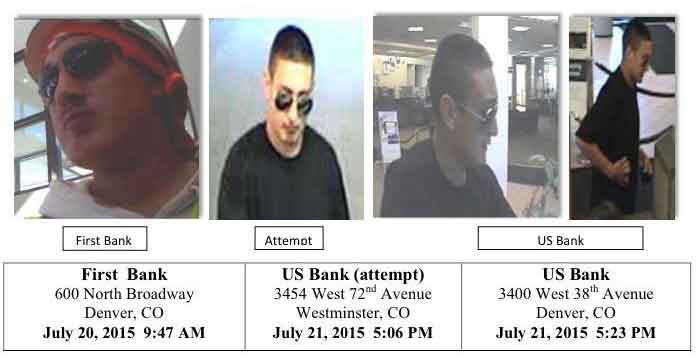 DENVER — Law enforcement officers in metro Denver want help finding a suspect wanted for two bank robberies and one attempted bank robbery that took place Monday and Tuesday.
The suspect is accused of robbing First Bank at East Sixth Avenue and Broadway on Monday morning. Investigators believe he tried to rob the US Bank on West 72nd Avenue in Westminster just after 5 p.m. Tuesday, and then he's accused of robbing the US Bank on West 38th Avenue in Denver about 20 minutes later.
He is described as a white or Hispanic man in his mid-20s, 5-foot-9 and weighing 150 pounds.
Police said he presented a note to a teller and then fled the bank on foot.
Anyone with information is asked to call Metro Denver Crime Stoppers at 720-913-7867.