This is an archived article and the information in the article may be outdated. Please look at the time stamp on the story to see when it was last updated.
LEADVILLE, Colo. — Crews are working overtime to clear the snow from miles of trails and roads in Leadville before a marathon scheduled to take place this weekend.
The snow is seven feet high in some areas, but crews will clear it down to the trail in time for the race, officials said Monday.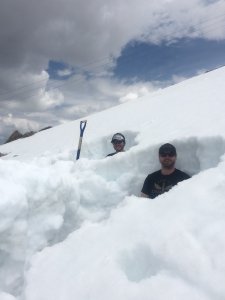 The Blueprint for Athletes Leadville Trail Marathon and 15.5-mile Heavy Half Marathon are scheduled for Saturday. Both races begin at 8 a.m. in downtown Leadville.
"With the May storms this year, we've received a considerable amount of late season snow in Leadville. Our team has been working hard shoveling and clearing the snow away for our participants to give them the great race experience Leadville is known for," said Ken Chlouber, founder of the Leadville Race Series.
"The snow came late so we've had our boys up there shoveling and volunteers up there shoveling and we'll keep doing that right up to race day."
A four-man team has spent eight hours every day over the past two weeks digging out the trail by hand because they can't use snowplows.
"No, there's no machine that we've got around here that can crawl up that mountain," Chlouber said.
The Leadville Trail Marathon is the first event in the Leadman/Leadwoman competition, which includes five Leadville Race Series events during the summer. It is also a qualifier for the Leadville Trail 100.
"The Leadville Trail Marathon and Heavy Half courses run through the historic mining district of Leadville and climb up to 13,185 feet at the top of Mosquito Pass," organizers stated.
"The challenging, three-mile pass ascent includes rocky terrain and switchbacks, and athletes are rewarded with breathtaking views of Turquoise Lake and the Mosquito and Sawatch mountain ranges, including Mount Elbert, the highest peak in Colorado."
The Leadville Marathon began as a qualifying event for the Leadville 100 mile run. The 100-mile race started in the early 1980s after the Climax Mine closed.
The closure left 3,200 people out of work and threatened to leave Leadville a ghost town. That's when Chlouber came up with an idea to bring an economic boom to the small town.
"The key to getting people to spend money is that they stay overnight," Chlouber said. "I figured if they run a hundred miles, they're going to stay overnight."
The Leadville 100 only allows a maximum of 800 runners for safety. The Leadville Marathon will also host around 800 runners.
The money raised from the running events helps fund scholarships for students at Leadville High School. Every graduating senior receives $1,000 for college.
Online registration for the event is available through 5 p.m. Thursday. In-person registration is available up to 7 a.m. Saturday.