This is an archived article and the information in the article may be outdated. Please look at the time stamp on the story to see when it was last updated.
BOULDER COUNTY, Colo. — A teenager camping at Glacier View Ranch in Boulder County was attacked by a black bear around 4 a.m. Sunday, officials with Colorado Parks and Wildlife said.
The ranch is near the town of Ward, northwest of Boulder.
The victim is a 19-year-old staff member at the ranch who only wanted to be identified as Dylan.
Dylan, who was not in a tent, said he woke up when the bear wrapped its paw around him and bit his head, CPW officials said. He said the bear was trying to "pull him away."
"About 4 this morning, I woke up to a crunching sound and me being drug. And I thought it was a dream at first, then I realized it wasn't," Dylan said.
He realized that crunching sound was the bear's teeth biting into his skull.
"The bear grabbed my head with his paw and pulled it. … Then, it grabbed the back of my head," Dylan said. "I did not know what was going on. Once I saw the bear, heard it's breath, it was pretty scary."
The hulking animal dragged Dylan about 10 feet out of his sleeping bag while he slept under the stars with a few other camp staffers.
"I grabbed ahold of the bear by his ear and I found his eye, and I was poking it. It just let go of me and I was able to get away," he said.
The bear took off but it had injured him.
Dylan was left with big gashes on his head that required nine staples. He was taken to Boulder Community Health to be treated and was later released.
"A bear wandered into the main area of campus where several staff members were sleeping," officials with Glacier View Ranch said in a statement. "Unprovoked, the bear proceeded to attack one staff member."
Dylan told CPW officials that he hit the bear and other members of his group also helped fight off the bear.
"The on-campus medical team responded immediately and stabilized the staff member while the camp directors contacted emergency personnel," GVR officials stated.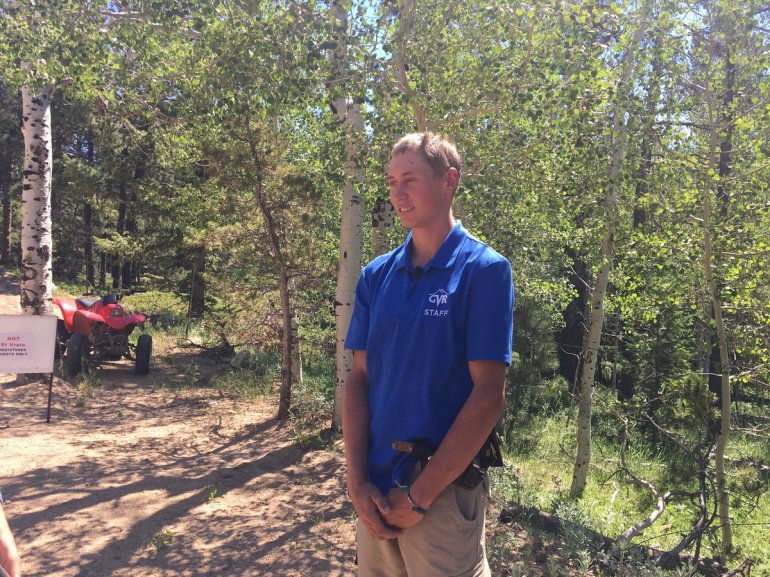 "For a bear to walk up and bite a human and pull on them like that, that is a very dangerous bear that has gotten too comfortable with people and that is a threat to humans," said Jennifer Churchill with Colorado Parks and Wildlife.
Colorado Parks and Wildlife will track or try to trap the bear and kill it because officials don't want it to happen to anyone else.
"He was very lucky. He's a brave kid. He's a smart kid. He did everything right," Churchill said.
She said Dylan knew how to fight off the bear and didn't do anything to lure the bear.
"Make sure you don't have food in the camp. We didn't. But still. Except me. I must have smelled really good or something," Dylan said.
Once the bear is caught and euthanized, Colorado State University will do a necropsy to determine if it had a medical condition that caused him to act so brazenly.
Glacier View Ranch is a Christian retreat and conference center and is owned and operated by the Rocky Mountain Conference of Seventh Day Adventists, according to its website.
The website states there were two camps going on for tweens and teenagers, and another scheduled to start Sunday.
Kiefer Dooley, the GVR summer camp director, said none of the children attending summer camp was threatened or harmed in any way.
"Our current camp session concludes today with over 100 happy tween campers heading home," GVR officials stated. "The summer camp program will continue as normal and we're looking forward to our final week of camp with nearly 100 teen campers from July 9 to July 16, 2017.
"Due to its location in the mountains, just several miles from Rocky Mountain National Park, we anticipate contact with various wildlife throughout the summer camp season. As such, we train our staff for contact, interaction and incidents with wildlife including moose, wild cats and bears."