This is an archived article and the information in the article may be outdated. Please look at the time stamp on the story to see when it was last updated.
BOULDER COUNTY, Colo. — A car caught fire after a head-on crash on Highway 52 in Boulder County on Monday afternoon, the Boulder County Sheriff's Office reported.
Both drivers were taken to Boulder Community Health's Foothills Hospital, where one was pronounced deceased, according to the Colorado State Patrol. The second driver is in serious condition.
The crash at Highway 52 and Monarch Park Place shut down the highway, which is also called Mineral Road, between the Diagonal Highway and North 79th Street.
At 5:10 p.m., the sheriff's office said Highway 52 would be closed for several hours. It reopened about 8 p.m.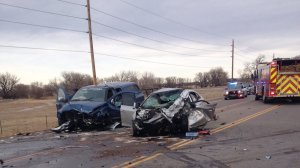 The crash involved a blue four-door pickup and a silver sedan.
Multiple deputies, firefighters and paramedics were at the crash scene a little before 5 p.m.
[protected-iframe id="cb59894298aea8183d9db82d68bc7fea-29290497-62452405″ info="https://www.google.com/maps/embed?pb=!1m18!1m12!1m3!1d34536.15135591421!2d-105.21324844591818!3d40.08448192450721!2m3!1f0!2f0!3f0!3m2!1i1024!2i768!4f13.1!3m3!1m2!1s0x0%3A0x0!2zNDDCsDA1JzEzLjIiTiAxMDXCsDEwJzMzLjkiVw!5e0!3m2!1sen!2sus!4v1489495310292″ width="100%" height="450″ frameborder="0″ style="border:0″ allowfullscreen=""]