This is an archived article and the information in the article may be outdated. Please look at the time stamp on the story to see when it was last updated.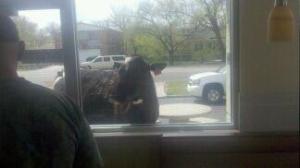 BRUSH, Colo. – An escaped cow in Brush made its way to a fast food restaurant Monday afternoon.
At around 3:30 p.m., the cow was spotted in the middle of Highway 71. By the time authorities arrived the cow had made its way over to the porch of a nearby McDonalds.
Police recognized the cow and called the owners to come pick it up.
No word if the cow placed an order.