This is an archived article and the information in the article may be outdated. Please look at the time stamp on the story to see when it was last updated.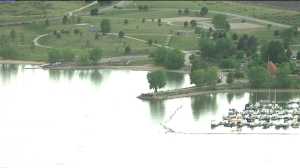 DENVER — An intriguing discovery made along the eastern shore of the Cherry Creek Reservoir this past weekend became a morbid one this week after the Arapahoe County Coroner's office got its hands on a peculiar jawbone.
After taking time to exam it, the coroners office confirmed that the bone is a partial human mandible.
With little or no evidence readily available about when the mandible came to rest at the bottom of the large body of water, the challenge for investigators is to find out who it belongs to. However, the initial examination suggested the mandible shows no signs of pre-mortum trauma.
"The bone will undergo an official forensic anthropology examination and DNA testing to aid in identification and comparison with known missing persons," the coroners office said in a press release.
The Arapahoe County Sheriff's Office and the State Park Rangers have been called in to assist with the case.