This is an archived article and the information in the article may be outdated. Please look at the time stamp on the story to see when it was last updated.
BAILEY, Colo. -- The all-too-familiar signs of tragedy were all over Bailey on Thursday morning. Flags at half-staff, message boards offering prayers and a newspaper headline announcing that Park County sheriff's Deputy Nate Carrigan had been shot and killed.
"He's in a better place. I believe that," said Amy Webber, who was busy updating a gas station sign with a simple message reading "Our Prayers Are With You."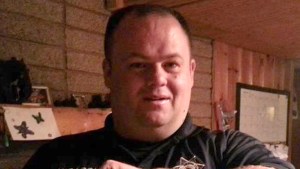 But as a procession carrying Carrigan's body made its way toward town from Jefferson County, most were still trying to understand how and why he died.
"Can't make sense of any of it," said Pauline Veith, who watched the procession outside Bailey Propane Co. "It tears your heart out, you know, it's like it's all finalized."
She wasn't the only one who stood by to watch as the procession of law enforcement vehicles rolled by on Highway 285.
"It's difficult to think that he's gone" said Lisa Lien-Hughes, general manager of the Rustic Station Bar and Restaurant. "You know, you wake up in the morning, you see him on the news and it's just really hard to imagine that such a wonderful human being is gone."
"Hard to think about the absence of one of our heroes here in town," said John Paul Baca, who also lives in town.
At Platte Canyon High School, hero was just one of Carrigan's many titles. He was also an assistant football coach and head baseball coach. He spent time driving a bus and working as a school resource officer.
"Just this morning, a teacher was telling a story about how she was working late in her classroom and he saw the light on and went in just to check on her, check on the school," Platte Canyon Superintendent Brenda Krage said. "That's who Nate was."
"When he smiled, his eyes danced," Veith said. "Baby faced, sweet, humble guy. He did not have an ego."
But Carrigan did leave a legacy, as Veith learned when she received a text from her son, who played football for Carrigan and Deputy Mark Hancock, who was injured in the shooting Wednesday.
"He said, 'If there's anything those two taught me, it was to have each other's back and to be afraid of no opponent,'" Veith said. "And I feel that's the way Nate left this world."