This is an archived article and the information in the article may be outdated. Please look at the time stamp on the story to see when it was last updated.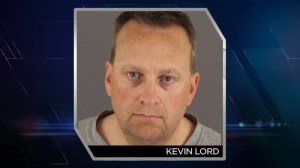 COMMERCE CITY, Colo. –Police announced they arrested Commerce City Police Officer Kevin Lord late Friday night. He faces charges of trying to influence a public official and false reporting. Lord said he was shot by a driver during a traffic stop last Sunday morning.
Investigators made the announcement during a news conference just before 10:00 Friday night.
A reward had grown to $20,000 for information on the attempted murder of the officer.
Police said their investigation took a turn Thursday night, and they arrested Lord Friday at 8:15 p.m.
Officer Kevin Lord, an eight-year veteran, claimed he was shot at close range while making a traffic stop in the 9700 block of Peoria Street. His bullet-proof vest was credited with saving his life.
Commerce City Police Chief Troy Smith said he was disappointed about the result of this investigation.
Related: Neighbors react to arrest of cop accused of falsely reporting shooting