This is an archived article and the information in the article may be outdated. Please look at the time stamp on the story to see when it was last updated.
DENVER — Colorado's U.S. senators are leading a bipartisan effort to provide banking for marijuana businesses.
Democrat Michael Bennet and Republican Cory Gardner are co-sponsors of the legislation.
"The lack of access to banking services for marijuana businesses is a key issue in Colorado," Bennet said.
"It raises significant public safety concerns for both employees and customers of these businesses and creates compliance and oversight challenges. This common-sense bill would address those issues by allowing our banking system to serve marijuana businesses that are in compliance with state laws."
Marijuana businesses are a target for criminals. In the past 18 months, L'Eagle Cannabis Gallery in Denver has been robbed three times.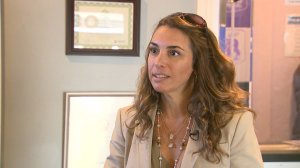 "I want to say that we've been burglarized, but really it's turned into vandalism, heavy vandalism," said Amy Andrle, who operates L'Eagle.
"Criminals come to our establishment thinking there will be a great windfall behind the doors for them and what they find instead is a heavily secured facility with lots of cameras and a super responsive police force."
Andrle said the thieves haven't taken any cash or product, but they have forced her to replace doors and broken glass.
"The perception nationally is that banks do not work with cannabis companies, and I think that filters down to criminals and there must be bags of money there and it`s just not true," she said.
That's because L'Eagle does use banking services.
Despite a massive misconception that banks can't work with marijuana establishments, the U.S. Department of Treasury allows banking for marijuana businesses with extra regulations.
Many banks don't want to take chances running afoul of federal law enforcement so they choose not to work with dispensaries.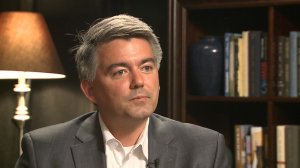 "Let's do wh't`s right for the public and let's fix this problem," Gardner said.
The first-term Republican said it's silly to let states such as Colorado collect tax revenue from legal pot and keep the taxes in a bank, but make it difficult for the business to put their revenue in banks.
"You have cash floating around so you have a hypocritical policy that allows cities to do one thing and it's people to do another thing, and then you have a public safety issue," Gardner said.
In 2015, Denver marijuana businesses were targets of robbery or burglary 120 times. In 2016, the number jumped to 164 times.
In June, robbers killed security guard Travis Mason at the Aurora dispensary he was working at. His death remains unsolved.
"You're always going to have crime around these types of businesses," said Denver police Lt. Andrew Howard.
He said it's up to politicians whether to legalize banking but added it's a mistake to assume bad guys are targeting dispensaries for cash.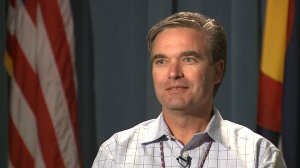 "The locations usually do a very good job of securing their cash," Howard said. "They are stealing the product and our belief is because of the value of the marijuana and the value of the marijuana on the black market."
Howard said a pound of marijuana in Colorado might go for $1,800. The same pound of marijuana on the East Coast would go for $5,000 on the black market.
Andrle said businesses are doing their part to make marijuana shops less of a target.
"We have agreements with armored car services that pick up our cash on a daily basis," she said.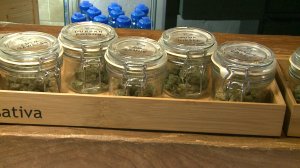 But she said there's no doubt allowing marijuana businesses to accept credit cards and bank with the same rules that apply to other businesses would help.
She hopes The Secure and Fair Enforcement (SAFE) Banking Act of 2017 proposed by Bennett and Gardner passes.
"I'm grateful that it's being introduced. It's a long time coming," she said.
So far, 29 states have legalized marijuana — either medical, recreational or both.