This is an archived article and the information in the article may be outdated. Please look at the time stamp on the story to see when it was last updated.
DENVER -- Colorado teachers will be out in full force on Friday, trying to increase support for Amendment 73.
The ballot proposal calls for an income tax increase on Coloradans with taxable income above $150,000 per year.
The measure also calls for a 1.37 percent corporate tax increase. It is expected to raise $1.6 billion for schools.
But Capitol sources say the measure is struggling, hurt by opposition from the business community and recent editorials by Colorado newspapers urging a no vote.
Teachers unions, however, disagree.
"I'm on the ground talking to voters and I see enthusiasm for this initiative," said Amie Baca-Oehlert, president of the Colorado Education Association.
Baca-Oehlert said teachers from across the state will be out in full force.
Denver teachers will rally on Colfax Avenue, Jefferson County teachers will be on Wadsworth Boulevard, Adams 12 teachers will be on 120th Avenue and Aurora teachers will be on Alameda Avenue.
The rallies will take place in the afternoon, after classes are let out for the day.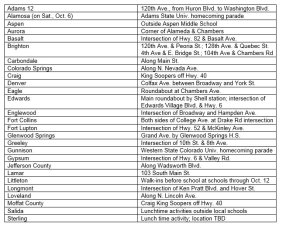 The rallies come as opposition to the proposal grows.
A "No Blank Check" campaign has intensified with support for the organization coming from the Colorado Bankers Association, the Colorado Restaurant Association, the Colorado Association of Realtors and the Denver Metro Chamber of Commerce.
Kelly Brough said the measure is "not a good fit."
"I think what we worry about is our smallest companies would not be able to hold on," Brough said.