This is an archived article and the information in the article may be outdated. Please look at the time stamp on the story to see when it was last updated.
AURORA, Colo. — The Colorado Freedom Memorial in Aurora's Springhill Community Park was seriously damaged over the Independence Day weekend.
A glass panel was shattered "in what appears to be a random act of vandalism," the president of the nonprofit organization said on the Facebook page dedicated to the memorial.
"What a sad comment it is that a place that honors Colorado's fallen who gave their lives defending the Freedom we celebrate on the 4th, would be subject to this," Rick Crandall wrote.
The Colorado Freedom Memorial is made up of 24 panels of glass that lean forward and back, representative of service members falling in action.
Replacing the one panel will cost $55,000 because no two panels are the same and each piece is a custom job, Crandall explained.
"While we have insurance I'm certain it won't be enough to cover the cost of replacing the panel," Crandall stated.
A GoFundMe page has been set up to accept donations to repair the memorial.
Organizers said any additional funds raised will "help support much needed surveillance for the Memorial."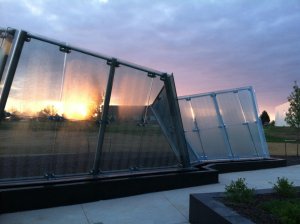 The Aurora Police Department is investigating and is offering a reward of up to $2,000 from the Aurora Police Reward Fund for information that leads to an arrest and conviction in the event it's determined to be a criminal incident.
Anyone with information is asked to call Metro Denver Crime Stoppers at 720-913-7867.
The memorial is 12 feet tall and 95 feet long, and bears the names of nearly 6,000 service members and MIAs.
It was dedicated on Memorial Day in 2013.