This is an archived article and the information in the article may be outdated. Please look at the time stamp on the story to see when it was last updated.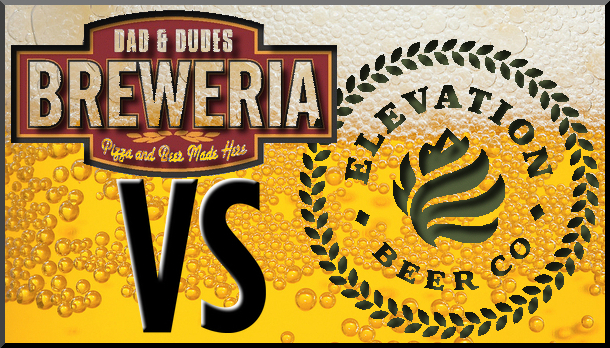 RELATED: Click for the PM round of semifinal voting
Happy Fourth of July Colorado beer drinkers, and welcome to the semifinals of the Colorado Brewery Cup!
Because today is a day that typically lends itself more to enjoying a frosty beverage than it does to reading about one, we'll try to keep this short and sweet.
Close to 4,000 votes were tallied on Thursday, as the field that started with all of Colorado's 200-plus breweries was trimmed down to these final four.
INTERACTIVE MAP: Over 200 Colorado breweries, 16 groups
And once again, we were treated to some great matchups on Thursday.
Though Broomfield's Big Choice Brewing Company held the lead for much of the day, Poncha Springs' Elevation Beer Co. mounted an impressive comeback, eventually winning by just 34 votes when all the votes were counted.
And it was safe to say both breweries enjoyed the competition.
Mr Miyagi say-Win lose no matter You make good beer, Earn respect @ElevationBeerCo in person to say good luck! @KDVR pic.twitter.com/KahF6k7Oup

— Big Choice Brewing, Brewery and Pizzeria (@BigChoiceBrew) July 4, 2014
Meanwhile, for the first time since the knockout stages began, Dad and Dude's Breweria was able to breath a little easier in Aurora at the end of the night knowing they weren't locked in a battle bound to go down to the final minutes of the voting deadline.
The same went for Odell Brewing Company and City Star Brewing, both of whom will meet each other in afternoon half of Friday's semifinal.
Before we get down to business, a big thank you is due to Big Choice as well as Oskar Blues Brewery (Lyons), Dry Dock Brewing Co. (Aurora) and the The Industrial Revolution Brewing Company (Erie) for supporting the Colorado Brewery Cup. Unfortunately, all four of those fine breweries were eliminated from the competition Thursday, after impressive showings that led them into the quarterfinals.
FINAL TALLIES: See how your favorite brewery fared in earlier rounds
Now onto today's morning round of voting and our first semifinal match: Evolution Beer Co. vs. Dad and Dude's Breweria.
Up until this point in the competition, we've briefed you with our own words on the remaining breweries in the Cup. It's high time we heard from you.
Why? Because the customer is always right, and because a picture is worth a thousand words.
Also worthy of note: Because Fourth of July eve is meant to be celebrated, we'll be closing the polls early today. You can vote for both this morning's mathcup and this afternoon's matchup up until 8 p.m.
Have fun!
1. Elevation Brewing Company (Poncha Springs)
This is what heaven tastes like! Oil Man from @ElevationBeerCo #Colorado #craftbeer pic.twitter.com/LzTKn9Xz66

— Matt Sparx (@mattsparxradio) April 14, 2014
What's better than an @ElevationBeerCo #FirstCast? Another on standby. #craftbeer #Salida #PonchaSprings pic.twitter.com/w3d9QL8QeL

— Shea Stewart (@SheaStewart) June 19, 2014
4. Dad and Dude's Breweria (Aurora)
Dad and Dudes Breweria is in fact an amazing place for house made craft beers and delicious food! Wow!

— Jerrod G (@freddyeyes) February 23, 2014