This is an archived article and the information in the article may be outdated. Please look at the time stamp on the story to see when it was last updated.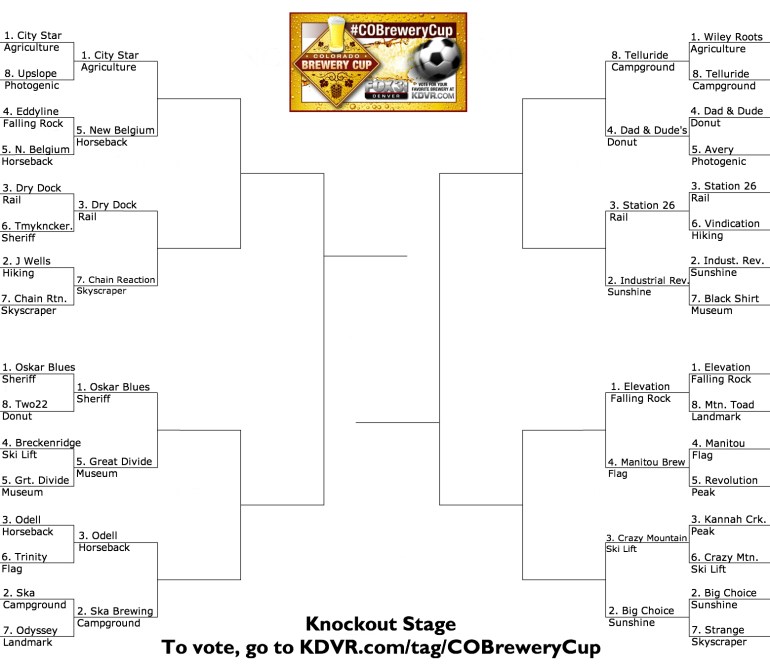 RELATED: Click for the AM round of knockout stage voting
We're off and running in the Colorado Brewery Cup's Round of 16, with 2,500 votes already tallied as of early Wednesday afternoon in the round of voting that went live earlier in the day.
Now we push on to the afternoon portion of voting in for this round, and we've got some great matchups below that are eagerly awaiting your votes.
But first, for those of you just joining the party and wanting to know how we got here, you'll find a bracket above showing the 32 breweries that advanced to the Knockout Stages of the Cup after four days of Group Stage voting. Each of those 32 breweries finished in the top two from one of the 16 groups that we put together, encompassing each one of the state's over 200 breweries.
A huge thank you is due to all the breweries who have helped support the Colorado Brewery Cup but were ultimately eliminated. And best wishes to the remaining breweries as we push closer to crowning a champion
As a reminder, you can still vote in both the morning and afternoon portions of voting in Wednesday's Round of 16 until 10:30 p.m.
1. City Star Brewing (Berthoud) vs. 5. New Belgium Brewing Company (Fort Collins): If you haven't been following the Colorado Brewery Cup, you would see City Star as a massive underdog in this match against the biggest craft brewery in the state (and the third biggest in the country). If you have been following the tournament, you know City Star has earned the No. 1 overall seed in the Knockout Stages and has received more votes than any other brewery. We know why beer drinkers love New Belgium — it has as much to do with Fat Tire as it does with their great events like Tour de Fat. But what makes City Star so popular? Award-winning beers like Bandit Brown and Mule Kick, for one. And yes, they too host great events, including one that raised awareness about the dangers of puppy mills with the help of a sweet little chihuahua named Harley.
2. Industrial Revolution Brewing Company (Erie) vs. 3. Station 26 Brewing Co. (Denver): Industrial Revolution has already downed one great Denver brewery in Black Shirt, and they're setting their sights on another. But Station 26 won't go quietly, having won the "Group of Death" — the most competitive group in the earlier rounds of tournament voting — to reach the Knockout Stage. Both young breweriesseem to have found their respective niches, as evidenced by Station 26 hosting yoga classes in their tap room on sporadic Saturdays and tapping new beers like their Chai Chocolate Rye on most Firkin Thursdays. Industrial Revolution, meanwhile, has gone to great lengths to pay homage to Erie's roots in the coal mining industry with old-world beers like their Iron Horse Irish Red Ale.
2. Big Choice Brewing (Broomfield) vs. 6. Crazy Mountain Brewing Co. (Edwards): Big Choice was another brewery that just pulled off a squeaker in the Round of 32, taking Denver's Strange Craft Beer Company down to the wire and winning by a mere 10 votes. They seem to have risen to prominence in Broomfield in large part due to the warm embrace they've given suburbia; catering to families and collaborating with chain brewhouse Old Chicago to produce their tasty Passion of the Weiss. Crazy Mountain, on the other hand, is a little more off the grid, but they too seem to know their audience. As much as they cater to the Vail Valley ski bums by offering live music most Thursdays, they're also currently offering a three-part ballroom dance lesson series in their tap room for the socialites in their midst.
1. Oskar Blues Brewery (Lyons) vs. Great Divide Brewing Company (Denver): Finally, one of the matchups this tournament was made for — two of the state's brewing giants face off in the final Round of 16 matchup. Oskar Blues has perhaps had the easier road here, advancing out of the Ski Lift Group in the Group Stage and coasting to a win over the much-smaller Two22 Brew in the Round of 32. Great Divide, meanwhile, is battle tested. Not only did they advance out of the hugely-competitive Museums Group, they downed Colorado powerhouse Breckenridge Brewing Co. in the Round of 32. Both of these beers are great success stories when it comes to the business of beer, with Great Divide having just celebrated their 20th anniversary and Oskar Blues having just announced a second location for its wonderfully-inventive Burning Can beer festival on the East Coast.