This is an archived article and the information in the article may be outdated. Please look at the time stamp on the story to see when it was last updated.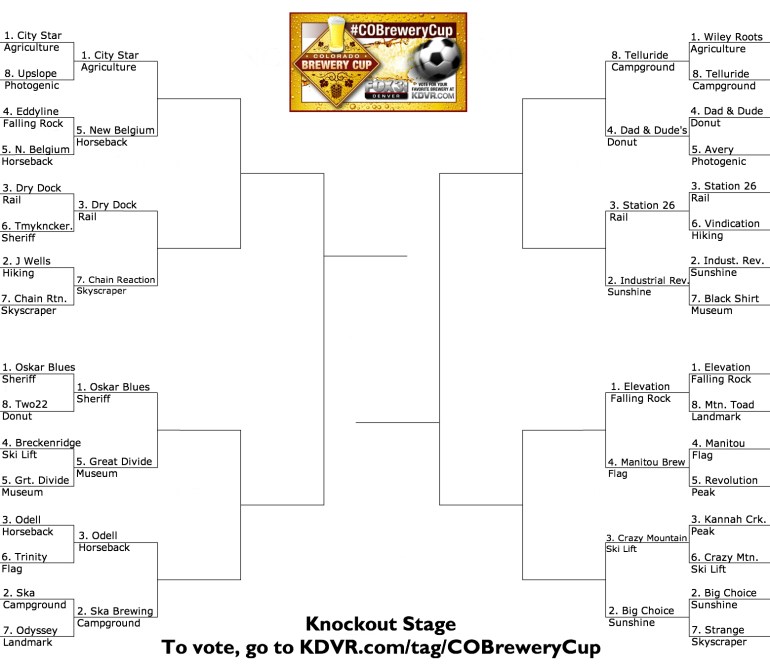 RELATED: Click for the PM round of knockout stage voting
Almost 14,500 votes were cast Tuesday for the 32 breweries that made it through the Group Stage and into the first round of the Knockout Stage in our Colorado Brewery Cup. A worthy 16 have advanced to Wednesday's second Knockout phase.
But there can only be one champion. So in today's Round of 16, eight more breweries will survive and advance while eight others will be eliminated.
INTERACTIVE MAP: Colorado's 200-plus breweries broken into 16 group
There are still a slew of powerhouses left in the competition, including New Belgium, Oskar Blues, Great Divide, Odell, Dry Dock and Ska. And interestingly enough, all those breweries happen to fall on one side of the bracket.
On the other side? A slew of underdogs.
Perhaps the best story coming out of that group on Tuesday was Dad and Dude's Breweria of Aurora, which mounted a furious comeback on their way to 460 total votes. It was enough to best Boulder favorite Avery Brewing by a mere eight votes.
Their call to action was simple:
Dad and Dude's won't skate their way to the title, though. Especially not if fellow upstarts like City Star have anything to do with it. The small-town craft brewers from Berthoud have been anything small in this tournament, gaining the No. 1 overall seed out of the Group Stages and ending up as the only brewery to surpass 1,000 votes during Tuesday's knockout stage.
FINAL TALLIES: See how your favorite brewery fared in earlier rounds
City Star isn't the only brewery representing Colorado's nooks and crannies, either. Elevation (Poncha Springs), Manitou and Telluride brewing companies all hail from towns of under 5,200.
When it comes to Denver breweries, 1-week old Chain Reaction continues to survive, as does 1-year-old Station 26. And while all of the breweries from Boulder proper may be out, its suburbs are well-represented in the form of Big Choice (Broomfield) and Industrial Revolution (Erie).
And last but not least, Crazy Mountain Brewery (Edwards) continues to hold down the fort for the high country.
Like Tuesday's matches, Wednesday's Knockout Stage will feature two rounds of voting — one that will go live in the morning and another that will go live in the afternoon. You can vote in both voting sessions until 10:30 p.m. tonight.
Without further adieu, on to Wednesday's first round of voting…
4. Dad and Dude's Breweria (Aurora) vs. Telluride Brewing Co. (Telluride): Telluride barely made it out of the Campground Group, which featured breweries in the southwestern part of the state, but they stepped up their game in the Round of 32, stacking up 602 votes and winning handily. But considering their next opponent is literally fresh off some overnight success, Telluride may be catching Dad and Dude's at a bad time. This rowdy Aurora bunch has already promised their patrons a "free beer party" if they take home the Colorado Brewery Cup, and they spent last night smashing Belgian beers after the U.S. fell to Belgium in the actual World Cup. Telluride may need to step up their game even more Wednesday.
3. Dry Dock Brewing Company (Aurora) vs. 7. Chain Reaction Brewing Company (Denver): Dry Dock, an Aurora mainstay and mass producer, was in need of a strong showing Tuesday to knock off Tommyknocker, Idaho Springs' storied craft brewery, and they got it. Meanwhile, support for 1-week-old Chain Reaction seems to be growing like a, well, chain reaction. They knocked off Boulder's fledgling J Wells in a battle of nano breweries Tuesday. Both Dry Dock and Chain Reaction find themselves facing a much different opponent today, which could lead to an intriguing matchup. Do you pull for the brewery that has several beers down pat, or the one that is tinkering daily with up to 45 recipes?
1. Elevation Beer Co. (Poncha Springs) vs. 4. Manitou Brewing Company (Maintou Springs): You can't help but root for both these breweries and what they're doing for their respective communities. Manitou gives out free beer in support of local trail races and often donates proceeds from events to the Cheyenne Mountain Zoo. Elevation has made donations to raise awareness about Lymes disease, a tick-borne illness prevalent in the Arkansas River Valley, and gives free stainless steel pint glasses to anyone they see wearing their swag off-site. And then there's the beer. Elevations 8 Second Kolsch has made it to Denver, and Manitou's Berliner Weisse, a beer inspired by their chef's raspberry coulis, is well worth the 10-minute drive from Colorado Springs, should you find yourself down south.
2. Ska Brewing (Durango) vs. 3. Odell Brewing Co. (Fort Collins): Last but far from least, two of brewing superpowers from opposite ends of the state meet up in the Round of 16. Odell is six years older and the bigger of the two, having been among the top 50 craft breweries in the country in terms of production for the last five years. But Ska is growing so rapidly that they're now being forced to fight off breweries from other states in trademarking disputes. It's not the sexiest part of expansion, but it tends to be a sign that your once-local brewery has made it on the national stage.