This is an archived article and the information in the article may be outdated. Please look at the time stamp on the story to see when it was last updated.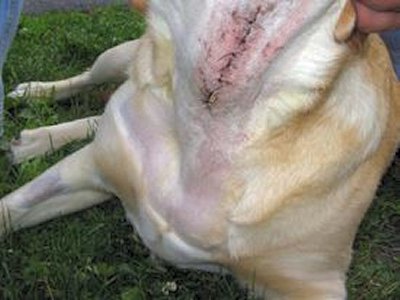 Imagine a Newfoundland trying to woof, but only summoning a whimper. That's a reality for  thousands of dogs who have been "debarked."
Now two northeast women who succeeded in getting the procedure outlawed in Massachusetts two years ago are pushing for veterinarians to ban the practice nationwide.
Sue Perry, a 58-year-old Connecticut bookkeeper, and Karen Mahmud, a 43-year-old New York nutrition blogger, are part of the Coalition to Protect and Rescue Pets, an activist group that is now setting its sights on the American Veterinary Medical Association (AVMA).
"I was just horrified by (debarking)," said Perry, who adopted a debarked Newfoundland from a rescue agency five years ago. "When he tried to bark, I was, like, 'What the heck?'"
The two women have never met in person but have collaborated to launch an online petition asking the AVMA to stop practicing the surgery. Nearly 135,000 have signed the petition so far, with the group saying it's shooting for just 115,000 more.
According to the petition, many dogs that have undergone the procedure have a tendency to choke and gag, which can lead to death or more costly surgeries to repair damage done by the debarking surgery.
The AVMA currently condones the procedure as a "final alternative" to manage dogs who bark incessantly.
Do you think the "debarking" surgery should be banned? Tell us on Facebook.