This is an archived article and the information in the article may be outdated. Please look at the time stamp on the story to see when it was last updated.
DENVER — When Danielel Mendoza passed out at Elitch Gardens, she and her family said they were led to believe employees at the water park called 911 immediately.  Instead it would be at least 42 minutes before an ambulance arrived on scene according to Elitch's own timeline and 911 dispatch records obtained by the FOX31 Problem Solvers.
"Why it took so long for them to call, to call for an ambulance to come especially after I told them I couldn`t breathe" is something Mendoza said she still doesn't understand.
The incident happened on Sunday morning September 4 during the water park's final weekend of the summer season.
Mendoza's family members insisted they arrived when the park opened at 10 a.m. and believe she passed out around 10:15 after breaking out in hives from an apparent allergic reaction to her suntan lotion.
After waiting for an ambulance that still hadn't showed up, Mendoza's sister called 911 herself.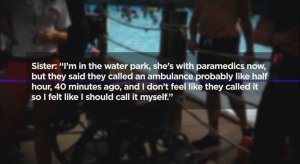 Mendoza's Sister:  "I`m in the water Park, she`s (Danielle Mendoza) with paramedics now but they said they called an ambulance like half an hour ago, 40 minutes and I don`t feel like they called it so I felt like I should call it myself."
911 Dispatcher:  "We just got one notified to send out about 25 seconds ago.
Mendoza's Sister: "Oh wow, as soon as we called the boss over here, all right."
911 Dispatcher: "So yeah we have one headed that way, OK?"
Mendoza's Sister:  "OK, thank you."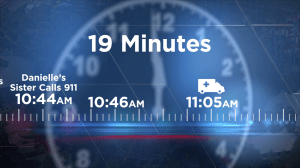 911 records show Mendoza's sister called at 10:44 a.m.  An Elitch's Paramedic called at 10:42 a.m. but that call sat in the 911 queue for two minutes before reaching a dispatcher.  Elitch's asked for a non-emergency ambulance so records show the ambulance left at 10:46 a.m. but didn't arrive until 11:05 a.m., 19 minutes later.
"I could hear my family yelling 'what`s taking the ambulance so long,' said a teary eyed Mendoza who told FOX31 she passed out twice while waiting for the ambulance to arrive.
"Everybody`s crying. For a second there we thought she died. Lips blue, face is white, it was very, very dramatic," said Mendoza's brother-in-law Derrick Medina.
Medina recorded cell phone video of Elitch paramedics treating Mendoza with oxygen and an I.V. bag.  In the video, he can be heard yelling at an Elitch's manager saying, "We`ve been waiting for an EMT! How long have we been waiting?"  The Elitch's employee can be heard responding "this conversation is over."
"It`s very frustrating to know that they didn`t call 911 when they should have," said Medina.
His comments were echoed by park customer Cindy Melancon who witnessed the entire event, "They (Elitch's) failed, it was terrible, it was terrible."
Melancon was at the park with her family and after awhile told Mendoza's family members to call 911 when she said it appeared an ambulance wasn't coming, "They (Elitch Gardens paramedics) kept telling her 'stand up' when obviously she was dizzy and saying 'I can`t stand up. I don`t feel like I can support myself.' An EMT was telling her to walk and that is when she actually passed out a second time and actually fell."
The general manager for Elitch Gardens would not talk to the FOX31 Problem Solvers on camera but shared the park's internal report about what it said happened.
In summary, the report, which relied solely on park employee statements, blamed Mendoza's family, calling them
"Disruptive, threatening and verbally abusive creating an extremely hostile environment. Because of the loud and hostile environment around the EMT the request for an ambulance was not heard by the dispatch office."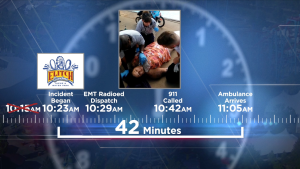 Elitch's said the incident began at 10:23 a.m., not at 10:15 a.m. as the family believes. Its internal report said an Elitch's EMT radioed the park's dispatch at 10:29 a.m. for a non-emergent ambulance. But the report acknowledges 911 wasn't actually called until 10:42 a.m. because of what it calls "a chaotic environment caused by the guest's family."
Eyewitness Cindy Melancon disagrees with Elitch's saying the family only started yelling after so much time elapsed waiting for an ambulance. "I think the family was very calm for way too long ."
Even under Elitch's timeframe, Danielle Mendoza waited 42 minutes from the time she became sick to the time an ambulance arrived.
"I would`ve had, hated if I would`ve passed away and my kids had to watch me lay on the floor for so long  knowing that Elitch`s could`ve prevented that by making that call a lot sooner," said Mendoza.
The Mendoza family filed a complaint with the water park but said it never received a call back.