This is an archived article and the information in the article may be outdated. Please look at the time stamp on the story to see when it was last updated.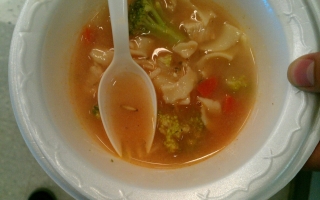 COLORADO SPRINGS, Colo. — A lot of kids complain about their school's lunches. But after photos from one school's soup started circulating on Facebook, the health department started listening.
That's because the photos show what appears to be bugs in one dish that was served to a large group of students at Harrison High School.
Student Lizeth Romano spoke to KKTV about what she saw floating around in her would-be chow.
"Everyone started throwing their food away," she said. "A lot of people felt disgusting because it was in their body already."
When the school found out what was in their lunches, District Two spokesperson Christine Lyle said all of the soup was disposed of immediately  She said the school believes less than 100 students were served the soup before the bugs were discovered.
Now Lyle says the district is trying to figure out if the bugs were meal worms or weevils.