This is an archived article and the information in the article may be outdated. Please look at the time stamp on the story to see when it was last updated.
DENVER -- Broncos defensive coordinator Wade Phillips was released from an area hospital Sunday night after being hit by a San Diego Chargers player during Sunday's game.
The Broncos said about 6:30 p.m. that Phillips was given the all-clear by doctors and is expected back at work Monday.
Broncos DC Wade Phillips has been released from the hospital. Everything checked out OK & he's expected back at work tomorrow.

— Patrick Smyth (@psmyth12) October 31, 2016
Phillips, 69, was hit on the sideline with just more than nine minutes to play in the second quarter.
Cornerback Bradley Roby intercepted a pass and was returning it for a touchdown. Chargers running back Melvin Gordon was trying to stop Roby when he was pushed into the sideline and slammed into Phillips.
Phillips was knocked onto his back and hit his head on the ground, according to the Broncos.
Praying 4 wade great play roby

— Cj Anderson (@cjandersonb22) October 30, 2016
A team of medical professionals examined Phillips on the sideline for about 10 minutes and several players took a knee nearby.
Total silence on field and in press box right now as @sonofbum is tended to on sidelines after he was hit during that Interception return.

— Nick Griffith (@NickGriffithTV) October 30, 2016
Phillips was taken off the field in a cart. His arms were strapped down but he pointed one finger toward the sky as he was wheeled away.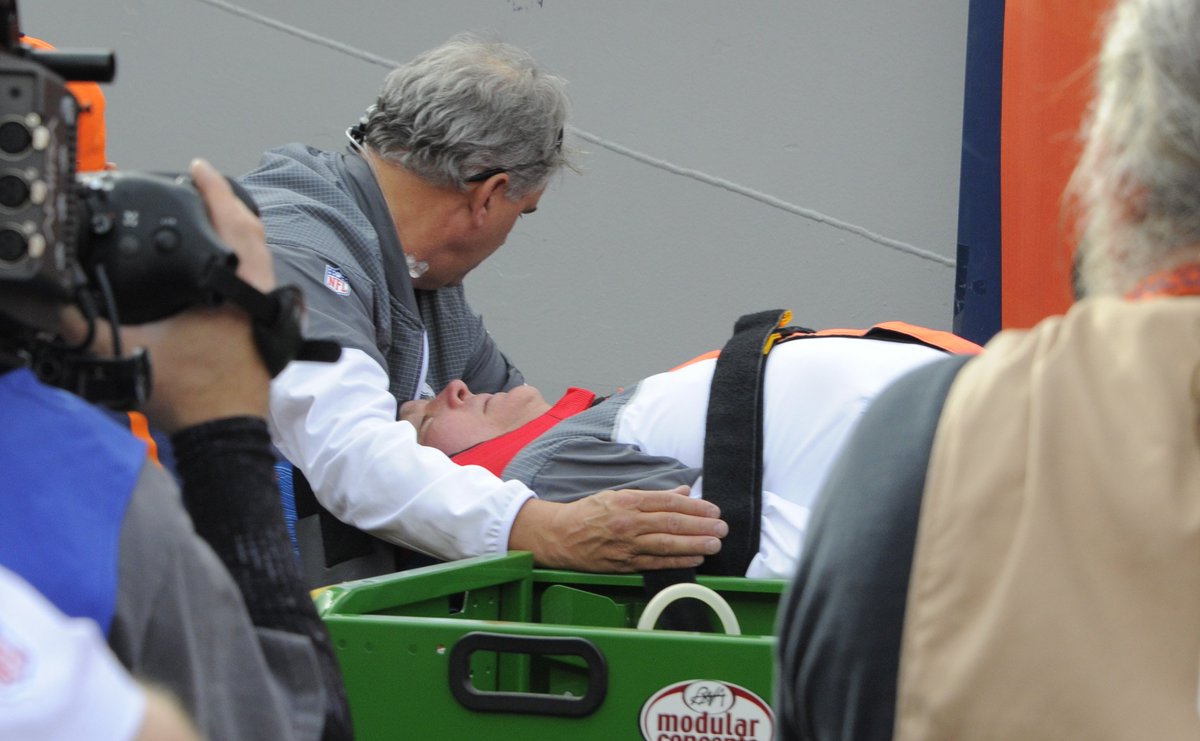 loud cheers from the fans at Mile High as Wade Phillips @sonofbum is carted off the field. #BeWellWade

— Nick Griffith (@NickGriffithTV) October 30, 2016
"After being injured in sideline collision, Wade Phillips was taken to hospital for evaluation. He's alert & has movement in all extremities," the Broncos said.
In Coach Phillips' absence, LBs Coach Reggie Herring is sending in the defensive plays for the Broncos.

— Patrick Smyth (@psmyth12) October 30, 2016
After the Broncos won the game, 27-19, the team tweeted, "[Phillips] is doing great. … He's upbeat, watched the game. All indications are that he will be back quickly."