This is an archived article and the information in the article may be outdated. Please look at the time stamp on the story to see when it was last updated.
Note: This report includes some sexual content.
BOULDER, Colo. -- A Boulder Police Department detective was arrested Thursday on charges that he warned a sex crimes suspect that BPD was preparing to arrest him.
Det. Jack Gardner, who worked in an office that investigates internet crimes against children, allegedly sent an email from a work laptop warning suspect Kahlil Peckham not to meet with a 13-year-old girl the suspect had allegedly contacted online. The meeting was actually a BPD sting meant to trap Peckham.
The events began on May 29, when Peckham, 26, is alleged to have met someone through Craigslist that he believed to be a 13-year-old girl. In his Craigslist ad, a person believed to be Peckham stated that he was "seeking a nerdy furry/kink/bondage girl."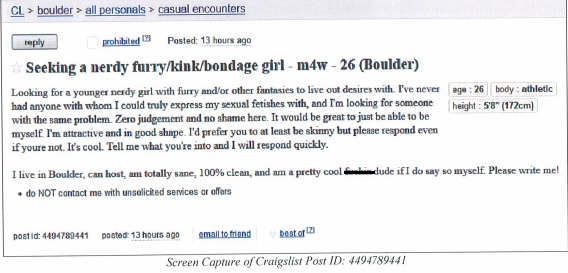 According to court records, more than 700 texts and computer messages were exchanged between Peckham and the "teen" during the next several days.  Many of the texts from Peckham contained sexually graphic descriptions of what he would like to do to the teen.  There were also many texts exchanged between Peckham and the teen in which they discussed meeting for the purpose of sexual contact, BPD reported.
On June 5, officers began preparing for a meeting between Peckham and the teen when Peckham allegedly received an email warning him not to show up.
On June 13, BPD served a search warrant at Peckham's home. Investigators are alleged to have found pornographic images of children, as well as evidence of online Skype and chat with a real 15-year-old girl living in Connecticut.
Police became suspicious that the warning message originated from within the Boulder Police Department. The Jefferson County District Attorney's Office was then contacted and requested to assist with further investigation.
The First Judicial District Attorney's Office then began an investigation into the possibility that a Boulder Police officer had sent the message.
According to the affidavit in that case, the email was sent from a laptop in Gardner's work area at the Boulder Police Department.
This laptop was issued to Gardner to investigate internet crimes against children. Due to the sensitive nature of these investigations, the laptop was not connected to the City of Boulder's computer network, BPD said. The laptop accessed the internet through an undercover router used at the police department.
The First Judicial District Attorney's investigator issued a warrant for Gardner on Wednesday. Gardner, 56, was arrested on suspicion of accessory to internet luring, official misconduct and obstructing government operations.
Peckham was arrested on 20 counts including internet luring of a child, sexual exploitation of a child and other crimes.