This is an archived article and the information in the article may be outdated. Please look at the time stamp on the story to see when it was last updated.
ADAMS COUNTY, Colo. — A fire at a Waste Management facility near the 6100 Block of Brighton Road produced a big plume of black smoke that was visible for miles.
Officials got a report of a debris fire with structures threatened around noon. An official with South Adams Fire said the fire is burning a mound of garbage.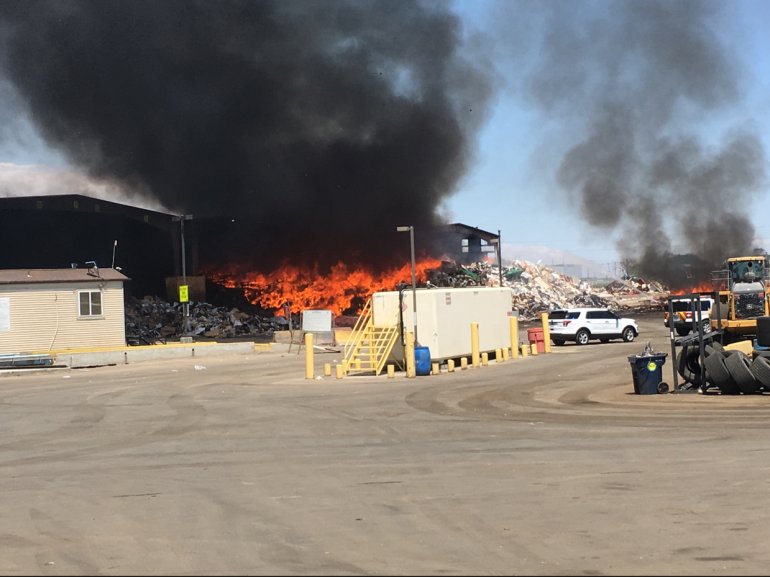 This is the second fire at the Waste Management facility in just over a month.
A huge fire broke out at the facility on June 15. It's now the second time people living near the facility have been exposed to the dangerous smoke.
"You'll get hints of chemicals. After breathing it a while your throat will start to hurt. You'll wake up with feeling a burning sensation in the back of your nose," said Jorge Ortiz.
"Stuffed nose, headaches, coughing," said Joanne King.
Dr. Ivor Douglas is the director of Pulmonary and Critical Care Medicine at Denver Health. He said even exposure to this kind of smoke once can be problematic.
"If it's very dense, it can actually have direct and immediate effect inside the lining if the lung and cause a burning or tissue damage and difficulty breathing that can be quite severe," said Douglas.
Douglas said a healthy person's lungs should be able to bounce back from the exposure after a few hours. However, people with chronic lung disease or asthma are at serious risk.
"If that symptom persists for anything more than a couple of hours, the answer is absolutely be worried about it and seek help for that," said Douglas.
Douglas recommends residents should avoid going outside, close doors and windows. He said the best way to recover is in air conditioning with a humidifier.
It's not clear what sparked the fire. Firefighters said similar fires have started because people threw hot charcoal from their grill into the garbage. There were no injuries.