This is an archived article and the information in the article may be outdated. Please look at the time stamp on the story to see when it was last updated.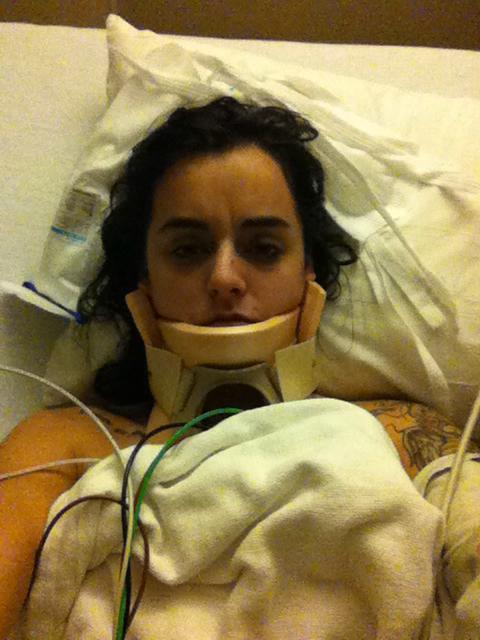 LIBERTY, Mo. (Fox4KC.com) — A woman posted a picture to Facebook, but it's not one you typically see. She's in a neck brace, lying in a hospital bed with cords criss-crossing her chest. Her eyes are dark. She's not smiling. Instead, she's on a mission to get justice.
According to the Fox4KC.com, Amber Taylor said her boyfriend is responsible for causing her injuries.
"I want everyone to know who he is bc he is fake and honestly NO woman ever deserves to be in my spot," she wrote.
According to Liberty police, Austin McCauley was arrested on Dec. 11 for domestic abuse for an incident that occurred on Dec. 10 at the Value Place Motel in Liberty, Mo. McCauley is expected to be arraigned Wednesday afternoon, charged with second degree domestic assault.
According to the probable cause, a witness told police McCauley "went crazy" and hit Taylor in the head with a baseball bat in the motel room where the two had been living for the past two-and-a-half weeks. The witness said Taylor was knocked unconscious and bleeding and that McCauley "freaked out" and thought she was dead. According to the witness, they checked for a pulse and, after learning she was still alive, McCauley took her to the bathroom to "clean her up." After an unknown period of time, the witness told police he and another witness thought what was happening was "crazy" and decided to call for help.
According to the probable cause, both witnesses said McCauley threatened to kill them if they called police and — holding a knife to his own throat — threatened to kill himself.
When police arrived, they found Taylor in the bathroom wrapped in a towel with wet hair. According to the probable cause, police said she appeared dazed and disoriented. Inside the bathroom police found blood on the tub, toilet and in the trash can. The tub was filled with bloody water approximately four inches deep.
According to a police officer who responded to the scene, Taylor told authorities McCauley attacked her after finding text messages on her phone to another man. Taylor said McCauley first smacked her in the face. Taylor said she punched McCauley in the face two separate times. Taylor told police the two continued to fight and the last thing she remembered was McCauley pulling a bat "out of nowhere" and hitting her in the head.
Taylor was taken to an area hospital where she is being treated for closed head trauma and a laceration to her scalp. After posting her picture to Facebook — using McCauley's account — it gained the attention of thousands of people. Nearly 6,000 people "liked" the post, commending Taylor and calling her 'brave.' The picture was shared over 600 times and comments continue to mount.
McCauley could not be reached for comment, as he is currently in police custody. FOX 4 is efforting further details and will update this story as they become available. Refresh this page for updates.
Get more coverage of this story on Fox4KC.com