This is an archived article and the information in the article may be outdated. Please look at the time stamp on the story to see when it was last updated.
DENVER — The La Plata County sheriff's office said Thursday they have found the remains of Dylan Redwine, a teenager who went missing in November near a small southern Colorado town.
Sheriff's Office spokesman Dan Bender said a search team found several items while looking in the Middle Mountain area near Vallecito, where Dylan wet missing in November.
They were sent to the Colorado Bureau of Investigation for identification. "Some of those items were human remains and they were able to identify those as being the remains of Dylan Redwine," Bender said.
"Our hearts and prayers go out to the family at this difficult time," Bender said adding that deputies are treating the discovery as a criminal investigation and not as an accident.
Bender said Dylan's parents were called to Durango to hear the news Wednesday.
"We are pursuing this as a criminal investigation and not as an accident," Bender said. "We are going to be as vigilant as ever in pursuing this criminal investigation."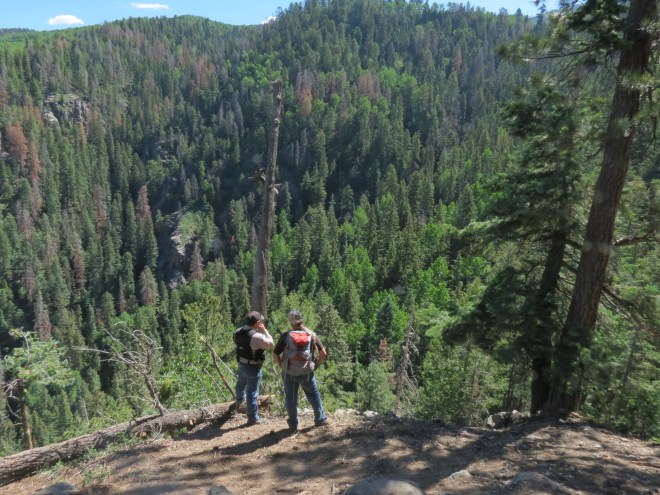 Members of the LaPlata County Sheriff's Office spent the last five days searching for clues related to Dylan's disappearance.
Dylan Redwine, who was 13-year-old at the time, was last seen near his father's home in Vallecito Thanksgiving weekend.
They searched an area ranging in altitude from 8,000 to 11,000 feet in rugged terrain that consists of deep canyons and dense forest.
Bender said the search was not based on any recent tips or new information. It was part of a series of follow-up searches conducted in the Vallecito area since snows melted in the spring.
Search for Dylan became televised fight between parents
In the weeks after Dylan's disappearance, community members banded together to try and find him with volunteer search teams and even a $50,000 reward offer.
Bender has said that both of Dylan's parents have cooperated with authorities, but they have also engaged in a public blame game.
Dylan's parents are divorced.  Dylan was visiting his father for Thanksgiving when he went missing.
His parents appeared on the Dr. Phil Show in February and accused each other of complacency.
"I've had suspicions that Elaine could be involved in this," Mark Redwine said on the show, mentioning Dylan's mother. "I didn't lose Dylan."
"Then why is he gone?" Elaine Redwine boomed.
"That's a question we all have to ask," Mark said. "But…"
"No!" Elaine interjected. "You don't have to ask that question! You had him! Where is he?"
Investigators have never named Mark or Elaine as suspects in Dylan's disappearance. However, the TV appearance did reveal that Dylan likely led a turbulent home life before he went missing.
Mark Redwine has asserted that he believes Dylan was abducted when he was walking to a friend's house six miles away from his property near Vallecito Lake.
Dylan Redwine went missing on Nov. 19, 2012 (Photo: La Plata County Sheriff's Office)

Searchers look for clues in disappearance of Dylan Redwine on Middle Mountain. Photo: La Plata County Sheriff's Office

Searchers look for clues in disappearance of Dylan Redwine on Middle Mountain. Photo: La Plata County Sheriff's Office

Searchers look for clues in disappearance of Dylan Redwine on Middle Mountain. Photo: La Plata County Sheriff's Office

Searchers look for clues in disappearance of Dylan Redwine on Middle Mountain. Photo: La Plata County Sheriff's Office

A Dylan Redwine billboard in Colorado Springs, Colo. Jan. 14, 2013