This is an archived article and the information in the article may be outdated. Please look at the time stamp on the story to see when it was last updated.
AURORA, Colo. — The man accused of opening fire in a crowded movie theater, made his first court appearance Monday, giving the public its first look at the suspect since his arrest in an attack that authorities say was planned months in advance.
James E. Holmes, his hair dyed various shades of red, looked downward, then straight ahead. He sat without blinking for long periods. At times, his eyes fluttered, then squeezed tight and reopened in a blank stare. Occasionally, his eyebrows arched over several days of stubble, giving his face a mournful mien.
For a brief video showing Holmes' dazed demeanor and strange hair color, click here. (For mobile users wanting to see that video, click here.)
But the man who identified himself to police as "The Joker," dressed in a maroon jumpsuit over a white T-shirt, gave little indication that he was paying attention to the courtroom procedure that ensured he will continue to be held without bond.
He was then led from the courtroom and back to the Arapahoe County Jail, where he is being held in isolation.
Read why one recently-released Arapahoe County Jail inmate said Holmes "would be killed" by other inmates if he's released from solitary confinement.
"The charges on which the court found cause included first-degree murder," Arapahoe County District Attorney Carol Chambers told reporters outside the courthouse. She said prosecutors have a lot of work to do. "I would say there's no such thing as a slam-dunk case," she said. "We're still looking at the enormous amount of evidence."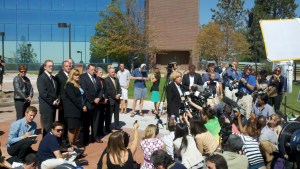 Deciding whether to pursue the death penalty is a long process and would involve input from victims and their relatives, she said.
A capital case would require a finding of either extreme indifference or deliberation, she said.
Holmes is being held in connection with the Friday shootings that left 12 dead and 58 wounded, and the subsequent discovery of his booby-trapped apartment, which authorities believe he rigged before leaving for the Century Aurora 16 multiplex.
But did Holmes act alone? Read why authorities recently interviewed an associate of Holmes.
Authorities have been tight-lipped about a possible motive in the case, and police spokesman Frank Fania told CNN late Sunday that Holmes has been uncooperative with investigators and requested an attorney.
See the court order that seals all search warrants and affidavits.
Arapahoe County public defender James O'Connor has been assigned to the case. The Colorado Judicial Department declined to say whether Holmes requested a public defender. A telephone call by CNN to O'Connor's office was not immediately returned.
Holmes' court appearance will come a few hours before his family is expected to issue a statement.
Lisa Damiani, an attorney representing the family, told CNN the statement would be made at her San Diego office.
The family, which lives in San Diego, issued a statement Friday saying, "Our hearts go out to those who were involved in this tragedy and to the families and friends of those involved." It added, "We are still trying to process this information."
Over the weekend, Aurora Police Chief Daniel Oates told reporters that there was "evidence of, I think, some calculation and deliberation."
Holmes received deliveries over the past four months to his home and work addresses, which begins to explain how he may have obtained some of the materials used in the attack and those found at his apartment, Oates said.
As of late Sunday, at least 17 people remained hospitalized — eight in critical condition — in five area hospitals.
President Barack Obama met with families of the dead over the weekend, and thousands of residents gathered in the city for a prayer vigil that drew state and local officials.
"I confessed to them that words are always inadequate in these kinds of situations, but that my main task was to serve as a representative of the entire country and let them know that we are thinking about them at this moment, and will continue to think about them each and every day," Obama told reporters after the meeting at the University of Colorado Hospital.
"It reminds you that even in the darkest of days, life continues and people are strong and people bounce back and people are resilient," the president said, after describing the recovery of some victims. "Out of this darkness, a brighter day is going to come."
Though much attention has been paid to the "perpetrator of this evil act," that spotlight will fade, leaving behind just the good memories of those affected by the tragedy, he said.
Aurora is bracing for another emotional week as families begin making funeral arrangements. It was not immediately known when the coroner would release the bodies.
It also became clear that more people may have been killed if the gunman's semiautomatic rifle had not jammed.
Josh Nowlan suffered gunshot wounds but said he is happy just to be alive. "If that gun did not jam, I am full certain that I probably would not be here," he said Saturday from his hospital bed.
A law enforcement source, who spoke Sunday with CNN on condition of anonymity, said the rifle jammed because of a problem with the 100-shot magazine feeding it.
The military-style AR-15 had a separately purchased drum magazine, which can have trouble feeding bullets into the firing chamber if the gun is fired rapidly, the source said.
Investigators say the rifle was one of three guns used Friday by the suspect, along with a shotgun and a .40-caliber pistol.