This is an archived article and the information in the article may be outdated. Please look at the time stamp on the story to see when it was last updated.
Editor's Note: Thursday, July 20 marks five years since the Aurora Theater Shooting.  As this milestone approaches, FOX31 has carefully chosen how to cover it without re-opening old wounds, and without focusing on (or even mentioning by name) the gunman. This is the first in our week-long series of reports.
AURORA-- Heather Dearman says there's a patch of land near the Aurora Municipal Center that will soon take your breath away.
"It`s just... it`s powerful and it`s meaningful and it`s beautiful," Dearman told FOX 31.
She's vice-chair of the 7/20 Memorial Foundation, the group that has raised more than $250,000 to erect a permanent memorial to the victims of the Aurora theater shooting.  They plan to unveil the final design of the memorial in late August.
For Dearman, it's very personal.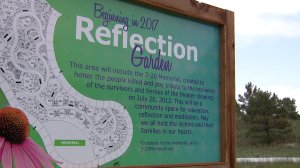 "My cousin is Ashley Moser and she was at the theater with her six year old daughter Veronica, and unfortunately (Ashley) was shot and she lost her unborn child, and Veronica was shot and killed," Dearman said.
Veronica was the youngest of the victims who died that night.
"To me the word anniversary doesn`t seem right, because an anniversary should be something that you celebrate like a wedding or a birthday," Dearman said.
The shooting may have left Ashley Moser paralyzed physically, but not in any other way.
"Ashley is doing emotionally so much better than I could have expected.  When she talks to me on the phone, you can hear her smile.  She`s just such an inspiration because for her to even just wake up every morning and start a new day. It just means so much - she has such strength and courage," Dearman said.
Dearman hopes the site of the memorial gives strength and courage to all of those affected by what happened in Aurora five years ago.  Not just cousins or siblings -- or moms and dads -- of those killed in the theater that night.  But an entire community still in need of healing.
The 7/20 Memorial Foundation has planned a Community Candlelight Vigil and First Responder Procession to honor those lost on 7/20/2012.  Community members are asked to gather at 11:30 p.m. on 7/19/2017 on the east side of the Aurora Municipal Building, 15151 East Alameda Parkway. The main program begins at 12:15 a.m., and at 12:38 a.m. there will be a moment of silence to honor the lives lost. At 12:45 a.m., Aurora Police and first responders end their procession and arrive at the 7/20 Reflection Memorial.