This is an archived article and the information in the article may be outdated. Please look at the time stamp on the story to see when it was last updated.
The widow of a man killed in the Aurora theater shooting filed suit against the University of Colorado psychiatrist who treated alleged killer James Holmes.
The lawsuit claims Dr. Lynne Fenton should have had Holmes placed on a 72-hour psychiatric hold. The University of Colorado-Denver is also a defendant in the suit along with five additional unnamed defendants.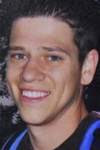 Chantel Blunk's husband, Jonathan, was one of 12 people killed in the shooting on July 20.
She filed the lawsuit Monday in Denver U.S. District Court.
Read Chantel Blunk's lawsuit against Dr. Lynne Fenton and the University of Colorado-Denver here
Fenton is director of student mental health services at the Anschutz Medical Campus in Aurora. James Holmes was a student in the neuroscience program there until shortly before the shooting.
"James Holmes told Defendant Fenton on June 11, 2012, that he fantasized about killing a lot of people," the lawsuit says.
It claims she told the CU Campus Wide Threat Assessment Team about James Holmes, but she did nothing more than that to stop the alleged shooter.
The suit says a University police officer asked Fenton "if she should apprehend James Holmes and place him on a 72-hour psychiatric hold." Fenton rejected the idea according to the lawsuit.
A spokeswoman for the University of Colorado-Denver says the university has nothing but sympathy for the Aurora theater victims. But the University believes this lawsuit is not well-founded.
The Denver Post reports The University hired attorneys Jane Mitchell and Richard Murray to represent Fenton. Murray is considered a medical malpractice and insurance defense expert. He couldn't comment on the lawsuit.
Holmes is accused of killing 12 people and shooting another 58 at the midnight premiere of the new Batman movie on July 20. An additional 12 people were hurt in the rush of people fleeing the theaters when the shooting began.
Holmes arraignment is scheduled in March.
See additional stories about the Aurora theater shooting